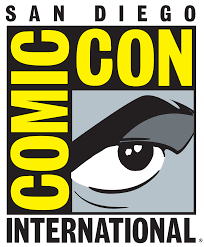 San Diego Comic Con is back in person for the first time since 2019. This year's show takes place with this Wednesday's preview night and goes through Sunday. Garbage Pail Kids collectors going to the show will certainly not have a shortage of exclusives to look for. Here's the list of everything announced so far.
Topps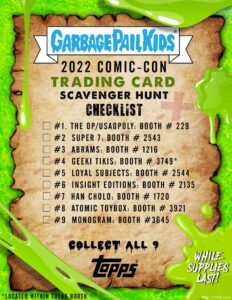 Topps won't be at the show in person, but they have partnered with nine of their licensees in a Trading Card Scavenger Hunt. Each licensee will be passing out one of 9 puzzle cards. The completed puzzle reveals new GPK artwork from Chris Meeks. The piece features numerous GPKs invading SDCC. Each card is limited to 500 copies, and Topps has supplied suggested daily limits to the booths, so collectors will want to get to the booths early.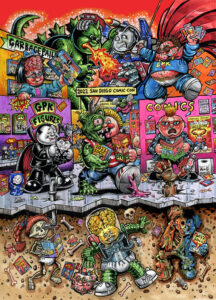 Joe Simko
While Topps won't be in attendance at the show, one of the main GPK artists, Joe Simko will be. Simko will make numerous appearances Friday and Saturday signing autographs. Simko will be at the Atomic Toybox booth (#3921) on both Fri. and Sat. from 11:00 AM – 11:30 AM. He will be at The Loyal Subjects booth (#2544) on Friday from 2:00 PM – 2:30 PM. Finally, Simko will be at the Unknown Comics booth (#4505) on Fri. 3:00 PM – 3:30 PM and Sat. 2:00 PM – 2:30 PM.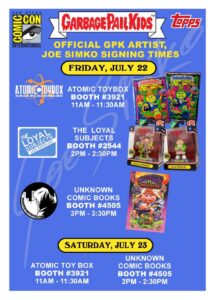 Atomic Toybox (Booth 3921)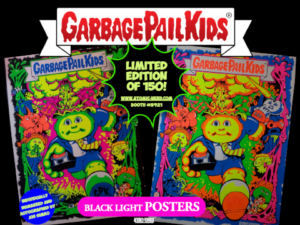 Aromic Toybox will once again have a number of GPK items for sale during the show. There will be two glow in the dark posters with artwork done by Joe Simko. The 24 x 18 posters are available in Bubblegum Pink and Snot Green. The company will also be selling four exclusive enamel pins; Adam Bomb, Adam Boom, Brony Tony, and Horse Pie Paul. Each pin can be purchased for $14.99 and is limited to 200 copies. Each purchase also comes with their show exclusive Packrat Pete GPK promo card. They will also have previously released GPK merchandise at their booth for purchase.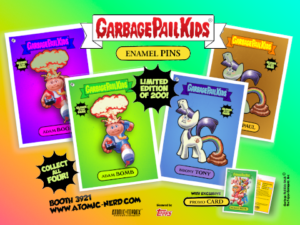 ToyNK (Booth 3749)
ToyNK will be selling the previously released GPK playing card deck done by artist Hydro74. Collectors purchasing the deck ($15) will get either an Adam Bomb or Hot Scott bonus sticker. Each of the bonus stickers is limited to 1000 copies.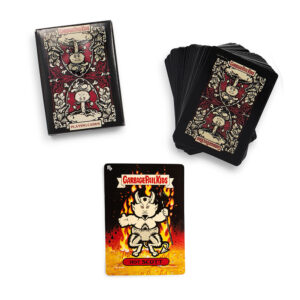 The Loyal Subjects (Booth 2544)
The Loyal Subjects will be offering new versions of two previously released figures. Their GPK x Stranger Things figures Demo Gordon and Waff Elle will be for sale in exclusive glow in the dark versions. Based on promotional pictures it also looks like the figures will come with updated GPK cards as well. The company will also have other previously released GPK figures available for sale at the show.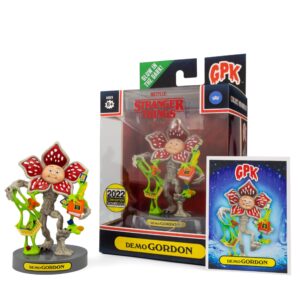 Han Cholo (Booth 1720)
Han Cholo will have their entire new line of GPK jewelry and pins at the show for sale. There will be a Nasty Nick ring ($300), pendants of Adam Bomb ($50) and Luke Warm ($50), and enamel pins ($12); Dead Ted, Tee-Vee Stevie, Roy Bot and Nasty Nick. The ring and pendants both come with a GPK themed jewelry box.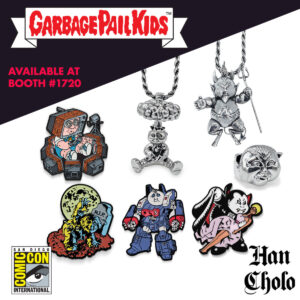 Monogram (Booth 3645)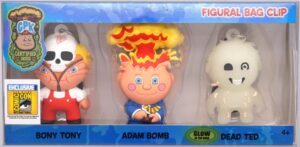 Monogram International will be offering an exclusive GPK 3D Foam Bag Clip pack. The pack contains the previously released Adam Bomb and Bony Tony figures, along with a glow in the dark version of Dead Ted. The set can be purchased for $25 and is limited to 500.
Abrams (Booth 1216)
Abrams Books will be on hand giving away free copies of the RL Stine GPK book, Welcome to Smellville. The book giveaway will be Wednesday night at 6:00 PM, while supplies last.