Update: GPK x View Askew boxes are live at the Mooby's popup.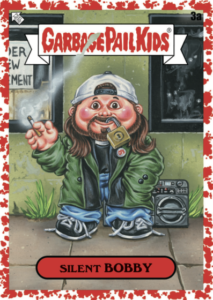 After the launch yesterday of the GPK x View Askey set, Kevin Smith took to Twitter and Instagram to finally announce where collectors can get their hands on the product. According to Smith, boxes will be for sale at his Mooby's Popup Restaurant beginning today, 7/20. His comic book store, The Secret Stash, is also set to receive boxes next month. Additionally in the comments of his Twitter post, Smith stated there would be t-shirts featuring the cards coming soon.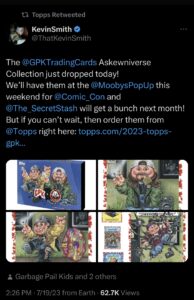 Also check out some of the pictures of GPK items at SDCC courtesy of collector Paul Scarborough, who attended preview night.