Update: Topps' listing for this set has gone through a number of changes and updates as the day has gone on. The listing was first posted with zero information. It was soon updated to show there were six 4-card packs per box. After another couple of hours Topps added what parallels can be found inside, along with odds:
Look for Exclusive Parallels:
Green: 1 Per Pack
Yellow: #'d to 100
Orange: #'d to 75
Blue: #'d to 50
Red: #'d to 25
Purple: #'d to 1
Printing Plate Parallels (CMYK) #'d to 1
This release is a rare release to contain printing plates. Because greens are listing as 1 per pack, there is no way to determine print run information yet. Topps could print and sell an unlimited number of boxes. Free shipping also seems to possibly be back. Originally Topps was planning on charging shipping, but that looks to have changed at some point during the day.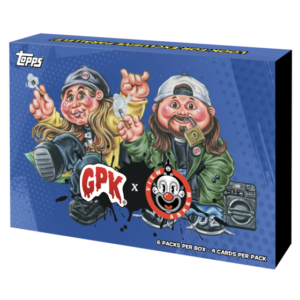 Snoochie Boochies! Topps today launched Garbage Pail Kids x View Askew online set. The 40 card set is an homage to many of the popular Kevin Smith films over the years. All cards in the set were done by artists Brent Engstrom and David Gross. The set is also suppose to be sold at this year's SDCC show, however a location hasn't been announced. It appears each box comes with 6 packs of cards for $50, even though there is no info about that in the description. Each pack has 4 cards. There is mention on the box that parallels can be found inside, but again nothing in the description. The box can be purchased at Topps.com, there is no time limit showing for the sale. There is no free shipping option for these boxes. Here are some pictures of the ser.