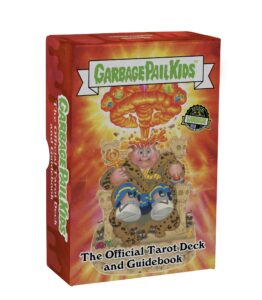 As GPKNews first shared last July, Tarot cards are getting the GPK treatment. Publisher Insight Editions, is now sharing the cover art and sample images of the cards with collectors. The set contains 78 cards, with 10 being brand new GPK characters. GPK artist Miran Kim did all the art for the set. Insight Edition is teaming with the GPK websites to offer a first look at some of the cards. GPKNews is sharing the Temperance card featuring Blob Betty.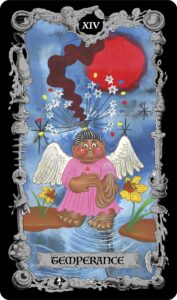 You can check out two more cards at GPKWorld and GeePeeKay. The set retails for $24.99 and can be preordered now from Amazon. The Tarot deck and Guidebook is expected to be released on 8/9/22. Here is additional information about the set from the publisher.
Garbage Pail Kids: The Official Tarot Deck and Guidebook
By Minerva Siegel | Illustrated by Miran Kim
Bring the wild, wacky and weird world of the Garbage Pail Kids into your tarot practice with this masterfully illustrated deck inspired by the iconic trading cards!
Created by Topps nearly forty years ago, the Garbage Pail Kids have shocked, delighted, and entertained fans around the world through a trademark combination of gross-out humor, sharp wit, and amazing artwork. Now, tarot enthusiasts and card collectors alike can celebrate their Garbage Pail Kids fandom with this official GPK tarot deck.  Sure to delight GPK fans, collectors, pop-culture enthusiasts, and tarot practitioners alike, Garbage Pail Kids: The Official Tarot Deck and Guidebook is the perfect addition to your home library!
STUNNING ARTWORK: Every card is hand-painted in spectacular detail by fan-favorite artist Miran Kim. While remaining true to the brand essence, Kim's mystical and phantasmagorical artistic style offers GPK fans and tarot practitioners a powerfully reimagined Garbage Pail Kids Universe.
FAVORITE CHARACTERS SEEN LIKE NEVER BEFORE: GPK fans and tarot practitioners will laugh out loud while being mesmerized by classic characters depicted as tarot icons such as Adam Bomb as the Emporer, Spacey Stacy as The High Priestess, and Rob Slob as the Fool.
UNIQUE TAROT EXPERIENCE: This deluxe set of 78 cards, with inspired text by tarot expert Minerva Siegel, consists of both major and minor arcana for anyone beginning their tarot practice, as well as for experienced practitioners.
DETAILED GUIDEBOOK: Includes a 128-page, full-color guidebook with explanations of each card's meaning and simple spreads for easy readings.
10 ALL-NEW EXCLUSIVE CHARACTERS: Features never-before-seen additions to the world of Garbage Pail Kids, including Twist of Fate Kate, Hopeful Henrietta, and Wishin' Willie.
About the Author
Minerva Siegel is the author of Tarot for Self-Care: How to Use Tarot to Manifest Your Best Self. She writes about tarot, witchcraft, and living with disabilities for print magazines and online publications. When not writing, she practices divination and drinks rose lattes in the Victorian house she shares with her husband and their rescue dogs. Instagram: @SpookyFatBabe.
About the Illustrator
Miran Kim is a painter, illustrator, and comic book artist whose numerous publishing clients include Marvel Comics, Absolut Vodka, Topps Company, Papercutz, IDW, and Éditions Glénat. In addition to commercial artwork, Miran's personal paintings have been featured in group shows at the New Museum of Contemporary Art (NYC), the Museum of Cartoonist and Comic Book Art (NYC), Galerie Huberty Breyne (Paris), and more. www.mirankim.com