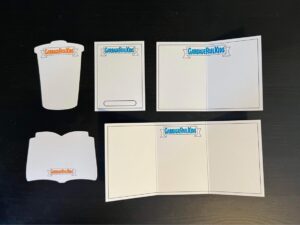 While Topps has still yet to release two GPK sets from 2021, work continues on the 2022 sets. Sketch artists began receiving sketch blanks this week from Topps for 2022S1 Garbage Pail Kids Book Worms. The number of sketches each artist is being asked to complete varies from artist to artist. Total number of sketches seem to be in line with previous releases, with an increase on shaped sketches and a decrease on panos and tryptych. Topps has given artists a very aggressive deadline of 5/2/22 to complete sketches, giving artists just over two weeks to finish. With the takeover of Topps by Fanatics, there are a couple of new rules artists have to follow. Artists can no longer sketch cards that have pee, poop, or blood on them. Any cards featuring racial stereotypes are also no longer allowed. While the racial stereotypes make sense, it's a mystery why Fanatics would remove body fluids, a staple of GPK's past.
As for the sketch cards themselves, the fronts feature blue banners on the panos, tryptych, and regular sketches, and Orange banners on the shaped sketches. The nameplate on the regular sketch is white this time. Topps is using classic original series characters on the sketch backs. Regular sketches have Brainy Janie, Panos have Nad Nerd, while Tryptych have Cranky Franky and 3-Dee. Once again, shaped sketches will comes in two varieties, trash can and the new open book shapes.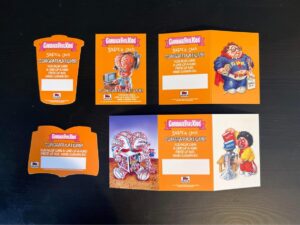 The total number of sketch artists for this set will be a slightly higher than what is confirmed for 2021S2 Vacation. Topps has a mix of current artists, returning artists, and even one new artist to GPK sketches.  So far 55 of the 57 artists confirmed form the 2021S2 Vacation set have confirmed they are doing sketches for the Book Worms set. Set to return are; David Acevedo, Simone Arena, Andrew Artz, Rö García Astorga, Robert Ball, Bobby Blakey, Emma Burges, John Brewer, Neil Camera, Nik Castaneda, Slippa Chervascus, Daniel Contois, Jasmine Contois, Sobot Cortez, Jeff Cox, Jason Crosby, Vincenzo D'Ippolito, Dave Dabila, Adam Dobrzeniecki, Joey Fitchett, Dave Gacey, Shane Garvey, Patrick Giles, Kelly Greider, Jason Heil, Lowell Isaac, Robert Jimenez, Karl Jones, Rickey Kipfer, Mike McHugh, Rory McQueen, Chris Meeks, Lily Mercado, Rich Molinelli, Victor Moreno, Nik Muggli, Erik Muller, Barry Nygma, Jay O'leary, Justin Olson, Mark Parisi, Darrin Pepe, Todd Rayner, Cathy Razim, Chad Scheres, Brent Scotchmer, Bekki Jane Sharp, Brandhen Snyder, Mike Stephens, Floydman Sumner, Gregory Tilson, Greg Treize, Magnus Von Robotsson, Gavin Williams, and Clinton Yeager. After taking a break, Topps is bringing back artists Quinton Baker, Daniel Goodroad, Jon Monserrat and Matt Steffens for this set. Finally, Barry Nibert will be making his GPK debut. For different reasons, Pat Chaimuang and Pat Dobbins will not be working on the Book Worms set. This brings the current confirmed sketch artist total to 60 so far. This article will be updated as any additional artists come forward.
2022 Series 1 Garbage Pail Kids Book Worms is currently scheduled to hit stores on 7/27/22.