Updated 11/21 to add Sobot Cortez and GPK Nik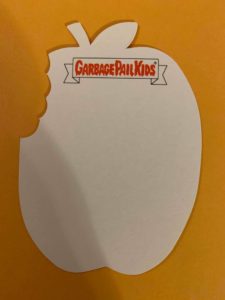 Topps sketch artists are hard at work once again. After staying busy with recent On Demand GPK sets, artists are now beginning work on 2020 Series 1 Garbage Pail Kids Late for School. Topps sent invites out late last week, and artists started getting sketch blanks in the mail this week. With a mid-January release date, Topps is really cutting things close this series. Artists were given a 12/13/19 due date for sketches. This gives artists just one month to complete sketches. This series each artist is being asked to complete 36 regular, 12 Shaped, 5 Loaded, 3 Panoramic, and 3 Tryptych sketches. Those numbers are very close to what was requested last series. With the number of artists falling this set, expect sketches to be an even tough pull than they were last series. In a bit of good news for artists, they do not have to mail in their artist returns this series. This should help to ensure a smoothly process between artists and clients for returns.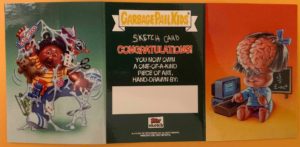 Topps is going with a dark green and red color theme for this series' sketches. The fronts of most of the sketches feature a hunter green GPK banner,  the exception being the apple which has a red banner. Topps is going with a number of different mascots for the card backs. Stoned Sean is featured on the back of the regular sized sketch. The panoramic sketch has Cranky Franky, while the tryptych sketch has Brainy Janie and Glooey Gabe. Once again there will be two different shaped sketches. The regular garbage can version is joined by an apple with a bite out of it shaped sketch.
The total number of sketch artists is down again from the previous series. 2019S2 Revenge of Oh the Horror-ible had 51 artists. So far only 38 of the 51 have confirmed they will be returning for 2020S1 Late to School. The returning artists are; David Acevedo, Simone Arena, Rö García Astorga, Quinton Baker, Bobby Blakey, John Brewer, Neil Camera, Pat Chaimuang, Jasmine Contois, Sobot Cortez, Jason Crosby, Vincenzo D'Ippolito, Dave Dabila, Joseph Dobbins, Joey Fitchett, Shane Garvey, Patrick Giles, Daniel Goodroad, Dennis Gortakowski, Kelly Greider, Jason Heil, Robert Jimenez, Rickey Kipfer, Mike McHugh, Rory McQueen, Lily Mercado, Rich Molinelli, John Monserrat, Victor Moreno, Jay O'leary, Darrin Pepe, Chad Scheres, Brent Scotchmer, Anthony Skubis, Mike Stephens, Gregory Tilson, Gavin Williams, and Clinton Yeager. A total of 12 artists so far have declined the invite for various reasons. Some cited burnout, other projects, the tight deadline, and artist pay as reasons why they are sitting this set out. The 13 not returning are; Michael Barnard, Daniel Contois, Shawn Cruz, Jon Gregory, Simon Jacobsohn, Chris Meeks, Barry Nygma, Ryan Moffett, Steve Potter, Todd Rayner, Matt Steffens, Floydman Sumner, and Dan Burn Webster.  There are however five artists who didn't sketch the last set, that are coming back. They are; Emma Burges, David Gacey, Lowell Isaac, Cathy Razim, and Mangus Von Robotsson. For the first time in a long time Topps has added a new artist. GPK Nik will be making his retail sketch set debut. That brings the current total number of sketch artists to 44. If Topps doesn't start to add new artists there will be far fewer sketches in the next set.
Artists haven't been sharing as many previews as in the past. With the tight deadlines we might not see many previews ahead of time. 2020 Series 1 Garbage Pail Kids Late to School is set to release in stores on Jan. 15, 2020.