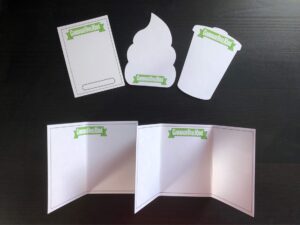 GPK sketch artists are starting work on sketches for the next major retail release, 2020 Series 2 Garbage Pail Kids 35th Anniversary. Most of the artists have been busy this summer on online sets or other brands. They have their work cut out for them this time, as sketch numbers are up and deadlines are tight. Invites started going out late last week, and artists began receiving sketches in the mail this week. In what seems to be a Topps tradition, once again the artists have a short deadline to complete sketches. Artists have a three week deadline to get sketches returned to Topps for the mid-Sept release of the set. Collectibles during the current pandemic have been more popular and in demand as ever. GPK has been on a roll, and pre-sale demand for boxes has been high. In perhaps a hint of increasing production for the upcoming set, Topps has increased the number of sketches from the artists. Each artist is being asked to complete 46 regular, 14 die-cut, 6 loaded puzzle, 3 panoramic, and 3 Tryptych sketches. This is an increase in regular, die-cut, and loaded puzzle over the previous set.  The number of artists for the set also appears to be up compared to 2020S1 Late to School. This should help make up for any production increases.
Topps is going with green for the color on the headers and backs of sketches. The fronts feature the Garbage Pail Kids banner in green. The regular sketches have a white name plate for the first time. The back of the regular sketch features the classic Adam Bomb. The back of the pano sketch features Double Heather, while the Tryptych sketch has Potty Scotty and Tattoo Lou. For some strange reason Topps has not included any logo or reference to the 35th anniversary on the sketch blanks. This seems to be a missed opportunity to help celebrate the anniversary. In keeping with recent tradition, Topps has two different die-cuts. Joining the trashcan die-cut is the new poop emoji die-cut.
It looks like the total number of sketch artists for this set will be higher than 2020S1 Late to schools. Only 44 artists completed sketches for the first set of 2020. So far 41 of those 44 of confirmed they are doing sketches for the 35th anniversary set. Set to return are; David Acevedo, Simone Arena, Rö García Astorga, Quinton Baker, Bobby Blakey, Emma Burges, John Brewer, Neil Camera, Nik Castaneda, Pat Chaimuang, Jasmine Contois, Sobot Cortez, Jason Crosby, Dave Dabila, Vincenzo D'Ippolito, Joey Fitchett, Dave Gacey, Shane Garvey, Patrick Giles, Kelly Greider, Jason Heil, Lowell Isaac, Robert Jimenez, Rickey Kipfer, Mike McHugh, Rory McQueen, Lily Mercado, Rich Molinelli, John Monserrat, Victor Moreno, Jay O'leary, Darrin Pepe, Cathy Razim, Chad Scheres, Brent Scotchmer, Anthony Skubis, Mike Stephens, Gregory Tilson, Magnus Von Robotsson, Gavin Williams, and Clinton Yeager. Three artists, Joe Dobbins, Dennis Gortakowski and Daniel Goodroad have declined the invite for the set. Topps is adding a number of returning or new artists to the lineup for this set. Artists Dan Contois, Simon Jacobsohn, Chris Meeks, Barry Nygma, Todd Rayner and Matt Steffens are all returning to retail GPK sketches after taking a break. Topps also added Jeff Cox, Bekki Sharp, Brandhen Snyder, and Greg Treize, who all made their GPK sketch debuts this spring and summer on online sets. In addition Karl Jones is making his GPK debut with this set. This brings the current confirmed sketch artist total to 52 so far. This article will be updated as any additional artists come forward.
Excitement is high as collectors anticipate the upcoming celebration of GPKs. 2020 Garbage Pail Kids Series 2 35th Anniversary is set to release on Sept. 23rd, 2020.