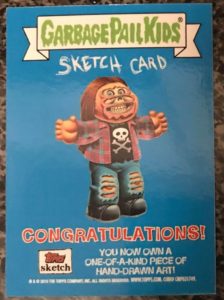 Topps is cutting it tight with the next retail GPK release. 2019 Series 1 Garbage Pail Kids We Hate the 90's is just three months away, and sketch artists are just now starting to receive sketch blanks. Much the same formula is being followed by Topps compared with the last release, 2018S2 Oh the Horror-ible. However this time artists have a much smaller window to complete sketches.
Despite the base cards being complete for months, Topps took a long to time announce the next retail set, all while keeping a January release day. This has caused sketch deadlines to be very tight for artists this time. Sketches must be completed by 11/19, which gives artists less than a month. This might hurt the overall quality of the sketches in the set, as many artists have stated they won't be able to do color sketches due to time constraints. One change Topps made this time around to the sketches is the amount requested. The number of sketches per artist is down compared to previous releases. Its not clear if the numbers are lower because of production or number of artists. Artists this round will be doing less Regular and Loaded sketches. Each artist is being asked to complete, 30 Regular, 5 Loaded, 6 Die-cut, 3 Panoramic, and 3 Tryptych sketches.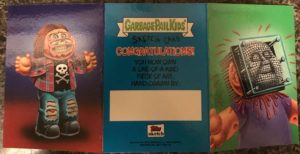 Topps is going green for this set. Each sketch features a green Garbage Pail Kids banner, with the regular size sketch having a green nameplate for the signature. There is also new artwork featured on the sketch backs. A Brent Engstrom painting of Grunge Greg, which was first shown on the sell sheets, appears on the back of the regular, panoramic, and tryptych sketches. The tryptych sketch also features new artwork with a gag based off of the popular desk toy 3D Pin Art.
The confirmed sketch lineup so far looks to equal or even exceed the number of artists from the previous set. Oh the Horror-ible had a record 58 artists complete sketches. So far 53 of the 58 artists have confirmed they will be completing sketches for We Hate the 90's. The returning artists are: David Acevedo, Simone Arena, Ro Garcia Astorga, Quinton Baker, Michael Barnard, Bobby Blakey, John Brewer, Emma Burges, Neil Camera, Pat Chaimuang, Daniel Contois, Jasmine Contois, Sobot Cortez, Jason Crosby, Shawn Cruz, Dave Dabila, Vincenzo D'Ippolito, Joe Dobbins, Joey Fitchett, David Gacey, Shane Garvey, Patrick Giles, Daniel Goodroad, Dennis Gortakowski, Kelly Greider, Jason Heil, Lowell Isaac, Robert Jimenez, Rickey Kipfer, Paul Mangione, Mike McHugh, Rory McQueen, Joe McWilliams, Chris Meeks, Lily Mercado, Ryan Moffett, Rich Molinelli, JM Monserrat, Victor Moreno, Jay O'Leary, Darrin Pepe, Steve Potter, Todd Rayner, Cathy Razim, Chad Scheres, Brent Scotchmer, Matt Steffens, Mike Stephens, Floyd Sumner, Gregory Tilson, Dan Burn Webster, Gavin Williams and Clinton Yeager. David Gross, Jon Gregory, Simon Jacobsohn, Bryan Abson, and Kevin Lea will not do sketches for this set for various reasons. Usually Topps also adds a healthy number of new artists to the mix. However, there have been no new artists who have come forward saying they are working on the set. There are however, some returning artists. Coming back after taking a break are Barry Nygma, Anthony Skubis, and Magnus Von Robotsson. This brings the current total of sketch artists to 56. This article will be updated as new artists are confirmed.
The rules around sketches has remained largely the same as the previous release. Once again artists must send their artist return sketches back to Topps with their pack inserted sketches. Topps will approve, and mail back to the artists, who can then distribute them after release date. The "banned sketch" list continues to be the same. Artists are not allowed to sketch cards featuring Stan Lee, Gene Simmons, the Hundreds set, Riot Fest set, and all Disney properties including Star Wars and Marvel.
Let hope sketch previews start sneaking out from artists in late December and early January as release date approaches. 2019 Series 1 Garbage Pail Kids We Hate the 90's is set to release in stores on Jan. 16, 2019.