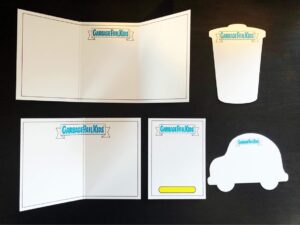 The set might not have been announced by Topps yet, but that hasn't stopped the work. Sketch artists began receiving their sketch blanks this week for work on the next Garbage Pail Kids retail set, 2021S2. With no permanent brand manager in place for GPK, employees are getting a head start on the next set to make sure everything stays on track. Multiple sketches artists have revealed that the theme for the next series will be GPKs on Vacation. One good thing about working ahead is artists were given one of the longest deadlines they've ever had for this release. Sketches are not due for approval until 7/16, giving artists plenty of time to complete their work. Artists are being asked to complete less sketches as they did for the most recent release, Food Fight. They are scheduled to complete 58 regular, 15 die-cut, 5 loaded puzzle, 3 panoramic, and 3 Tryptych sketches. It would appear production might be down compared to the previous set.
Topps is going with blue for the color scheme for the sketches with this release. The sketch fronts feature blue banners. The nameplate on the regular sketch is yellow. The backs are all blue with various OS characters. Regular sketches feature the return of Adam Bomb, Panoramic sketches have Tommy Tomb, while the Triptych has Silent Sandy and Alice Island. In addition to the traditional garbage can die-cut, there is a car shaped sketch to go with the vacation theme.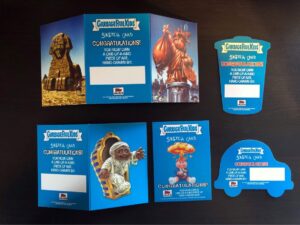 The total number of sketch artists for this set will be a little lower than 2021S1 Food Fight. 60 artists completed sketches for the Food Fight set. It doesn't appear Topps has invited any new artists for this set. So far 56 of the 60 artists from the Food Fight set have confirmed they are doing sketches for the Food Fight set. Set to return are; David Acevedo, Simone Arena, Andrew Artz, Rö García Astorga, Robert Ball, Bobby Blakey, Emma Burges, John Brewer, Neil Camera, Nik Castaneda, Pat Chaimuang, Slippa Chervascus, Daniel Contois, Jasmine Contois, Sobot Cortez, Jeff Cox, Jason Crosby, Vincenzo D'Ippolito, Dave Dabila, Adam Dobrzeniecki, Joey Fitchett, Dave Gacey, Shane Garvey, Patrick Giles, Kelly Greider, Jason Heil, Lowell Isaac, Robert Jimenez, Karl Jones, Rickey Kipfer, Mike McHugh, Rory McQueen, Chris Meeks, Lily Mercado, Rich Molinelli, Victor Moreno, Nik Muggli, Erik Muller, Barry Nygma, Jay O'leary, Justin Olson, Mark Parisi, Darrin Pepe, Todd Rayner, Cathy Razim, Chad Scheres, Brent Scotchmer, Bekki Jane Sharp, Brandhen Snyder, Mike Stephens, Floydman Sumner, Gregory Tilson, Greg Treize, Magnus Von Robotsson, Gavin Williams, and Clinton Yeager. Three artists, Quinton Baker, John Cebollero, and Matt Steffens will not be doing sketches on this set. As of this writing  Anthony Skubis have not confirmed if they are returning. Topps is bringing back fan favorite Joe Grotesque for this set. Topps is also debuting a new artists to GPK, RJ Tomascik. This brings the current confirmed sketch artist total to 58 so far. This article will be updated as any additional artists come forward.
Hopefully Topps will send out the sell sheets soon for the set. 2021 Garbage Pail Kids Series 2 is expected to launch this fall.