Updated 9/21 – Removed Lowell Isaac and Bryan Abson.
Topps sketch artists have begun receiving their sketch blanks for 2019 Series 2 Garbage Pail Kids Revenge of Oh the Horror-ible. Artists will be hard at work over the next few weeks completing the sketches for the next retail set. Topps has given artists a 8/5/19 due date for sketches giving artists just over 6 weeks to get them completed. While that's not a ton of time, it is more than the artists got the the previous set, We Hate the 90's. Each artist being asked to complete 37 Regular, 5 Loaded, 12 Shaped, 3 Panoramic, and 3 Tryptych sketches. Those numbers pretty much fall in line with the previous set. The number of shaped sketches is double what was asked for on the previous set. Does this mean production on Collector cases will be way up with this set? The number of regular sketches is up slightly, but it appears the number of artists is slightly down for this set.
In a bit of a disappointing move, Topps is keeping the green colors used on the 2019S1 set for the sketches. The fronts of the sketches appear to be exactly the same as the We Hate the 90's set. Both the Garbage Pail Kids banner and nameplate are green. Just like with the 2018S2 Oh the Horror-ible set there will be two different shaped sketches. Artists were given half of their die-cuts in the regular garbage can version, while the other half are a tombstone die-cut. 2018S2 had coffins as the additional die-cut. The backs of the sketches feature some familiar OS characters. Dead Ted, Weird Wendy and Tommy Tomb.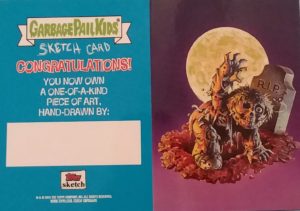 The confirmed sketch lineup appears to be down from the previous set. 2019S1 We Hate the 90's had 56 artists complete sketches. So far 49 of the 56 have confirmed they will be completing sketches for 2019S2 Revenge of Oh the Horror-ible. The returning artists are: David Acevedo, Simone Arena, Ro Garcia Astorga, Quinton Baker, Michael Barnard, Bobby Blakey, John Brewer, Neil Camera, Pat Chaimuang, Daniel Contois, Jasmine Contois, Sobot Cortez, Jason Crosby, Shawn Cruz, Dave Dabila, Vincenzo D'Ippolito, Joe Dobbins, Joey Fitchett, Shane Garvey, Patrick Giles, Daniel Goodroad, Dennis Gortakowski, Kelly Greider, Jason Heil, Robert Jimenez, Rickey Kipfer, Mike McHugh, Rory McQueen, Chris Meeks, Lily Mercado, Ryan Moffett, Rich Molinelli, JM Monserrat, Victor Moreno, Barry Nygma, Jay O'Leary, Darrin Pepe, Steve Potter, Todd Rayner, Chad Scheres, Brent Scotchmer, Anthony Skubis, Matt Steffens, Mike Stephens, Floyd Sumner, Gregory Tilson, Dan Burn Webster, Gavin Williams and Clinton Yeager. Emma Burges, David Gacey, Lowell Isaac, Paul Mangione, Joe McWilliams, Cathy Razim, and Magnus VonRobotsson for various reasons will not be completing sketches on this set. Once again, for the second set in a row, there have been no new sketch artists identified. However, there are 2 artists returning to GPK sketches cards after a break; Simon Jacobsohn and Jon Gregory. This brings the current total of sketch artists to 51. This article will be updated as new artists are confirmed.
As the release date gets closer in Aug/Sept previews of some of the sketches should start popping up. 2019 Series 2 Garbage Pail Kids Revenge of Oh the Horror-ible is set to release in stores on Sept. 25, 2019.