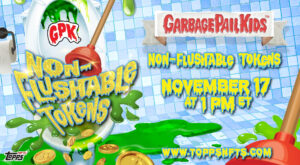 Topps is officially bringing Garbage Pail Kids back into the digital NFT world. Today the company announced 2022 Garbage Pail Kids Non-Flushable Tokens NFT Collection. The set features brand new art with gags based on NFTs and the Crypto industry. All artwork on the set was completed by artists Joe Simko, Brent Engstrom, David Gross, Justin Gammon, Darrin Pepe, and Jerad Hill. The base set consists of 24 cards, there are no a/b versions in this set, all different artwork. In addition to the base set, there are five additional variations of the cards to collect in different rarities. Each card is available in; Base (Common), Facsimile Signature (Uncommon), Animation (Rare), Animation Facsimile Signature (Super Rare), Golden Animation (Epic), and Golden Animation Facsimile Signature (Legendary).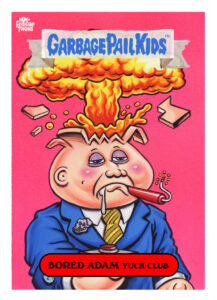 There will be just one pack type for sale. Each pack will cost $40 and contain 8 NFTs. Each pack guarantees at lease 1 Uncommon and 1 Rare or higher NFT. There will be a total of 3,840 packs of the collection for sale by Topps. Collectors have the following chances of pulling the following variations; Common (39.1%), Uncommon (28.1%), Rare (18.8%), Super Rare (9.4%), Epic (3.1%), and Legendary (1.5%). Topps has promised there will be collection challenges and prizes announced soon.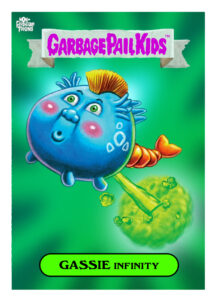 This set marks GPK's return to the digital NFT world after a long absence. The set is being released on Topps new ToppsNFTs.com platform. Collectors who were familiar with Topps' previously released GPK NFTs on the WAX Blockchain will want to take note of the differences between the two platforms. ToppsNFTs.com is on the Avalanche Blockchain. Topps has built their own closed platform and marketplace to house all their NFTs. This means collectors no longer have to purchase tokens to buy NFTs. All sales of packs and individual cards are done via credit card. Since the new platform is a closed system, many of the features found on WAX do not yet exists on ToppsNFTs.com. NFTs can only be bought and sold on the new website. Minimum listing price per NFT is $2. There is no wallet access, therefore NFTs can not be traded. NFTs  also can't be moved off of the platform. Other GPK NFTs on the WAX Blockchain also can not be moved onto the new platform. International withdrawal is in its infancy, and has only launched for a couple of countries. Topps has also had numerous growing pains with errors and uptime on their website. Topps has promised many of these features, with updated timelines well into 2023-2024.
Collectors who don't already have an account setup will want to make sure they complete some steps ahead of time. They should go to ToppsNFTs.com and create a new account. In order to buy and sell NFTs on the platform, collectors will need to verify their identity on the new account within the account settings. They can also add a credit card for payments and bank information for withdrawals.
The 2022 GPK Non-Flushable Tokens NFT Collection is set to launch on 11/17/22 at 1:00 PM EST. The complete checklist, including pictures of all the base cards, can be found here. Below are some examples of the animations and press release from Topps for the release.
Golden Animation Signature
Golden Animation Signature
Animation
Animation
2022 Topps Garbage Pail Kids Non-Flushable Tokens NFT Collection Lovingly Takes Aim atCrypto Contemporaries
All-new original set of digital collectibles riff on popular NFT and crypto projects with quintessential series humor and alliteration
Please use the following social handles to tag us when sharing the news on Twitter: @ToppsNFTs
The Topps Company, Inc., a division of Fanatics Collectibles and next-gen physical and digital trading card company, today announced the 2022 Topps GPK Non-Flushable Tokens NFT Collection, an all-new original set of digital collectibles that puts a unique Garbage Pail Kids twist on popular NFT projects and the crypto community as a whole.
"The GPK Non-Flushable Tokens Collection pokes fun at our friends in the NFT pop culture space with all the absurdities and oddities fans have grown to love from the immensely talented Garbage Pail Kids artists," said Tobin Lent, VP & Global General Manager of Topps Digital. "The creativity of this set and the delightfully detestable collectibles within, particularly in animated form, will be a joy for the community to collect!"
From CryptoPUKES and LUNA-tic to GASSIE Infinity and Bored Adam Yuck Club, fans can get their heads into the gutter with 144 unique collectibles from 24 different subjects, featuring artist signatures and animated variants.
The 2022 Topps GPK Non-Flushable Tokens NFT Collection will be available for purchase on Thursday, November 17 at 1 p.m. ET, exclusively on ToppsNFTs.com with card rarities ranging from Common to Legendary.
○
8 collectibles per pack
○
1 Uncommon+ and 1 Rare+ guaranteed

Challenges tasking collectors to obtain certain subjects from the collection to earn additional rewards will be announced soon with details and prize details. Fans that connected with Topps at New York Comic Con can also look forward to receiving their NYCC 2022 GPK Event Exclusive digital collectibles in the coming weeks to complement the release of the full set. Event exclusive collectibles feature color variations for each day of the convention.
For more information, visit toppsnfts.com, follow us on Twitter, Instagram, and join the Topps NFTs Discord channel.
About Topps:
Founded in 1938, The Topps Company, Inc. is part of Fanatics Collectibles, a next-gen physical and digital trading cards and collectibles company that was launched in 2021 and is a subsidiary of Fanatics Holdings, Inc. Through Fanatics Collectibles, Topps entertains and delights consumers with a diversified, engaging, multi-platform product portfolio that includes physical and digital collectibles, trading cards, trading card games, sticker and album collections, memorabilia and curated experiential events. Properties include Major League Baseball, Major League Soccer, UEFA Champions League, Bundesliga, National Hockey League, Formula 1, Star Wars, Garbage Pail Kids®, and more. Topps Digital Sports & Entertainment has connected with people around the world who have downloaded our apps including Topps® BUNT®, TOPPS® KICK®, Topps® NHL SKATE™, Star Wars™: Card Trader by Topps®, Marvel Collect! by Topps® and Disney Collect! by Topps®. For additional information visit fanaticsinc.com, topps.com, play.toppsapps.com.