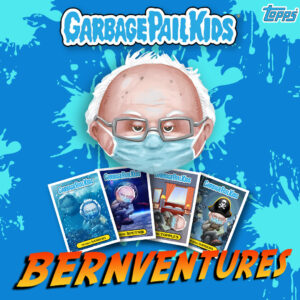 If you've been awake in the last week you've certainly seen some of the hundreds of Bernie Sanders memes taking over the internet. US senator and former Presidential candidate Bernie Sanders was photographed at the inauguration last week casually hanging out in his mittens, and the internet took it from there. Topps Digital is adding to the fun today by launching Garbage Pail Kids Bernventures set on the WAX Blockchain. The set launched as a surprise launch today at 3:30 PM EST at https://gpkbernventures.com. Cards were launched using the Atomic Assets standard. Packs are available for purchase in WAX only, with the cost being $5 worth of WAX tokens. Each pack comes with 2 different digital cards. There is no limit to packs available for sale. Packs will remain for sale for 3 days, with the sale ending at Friday, 1/29 at 1:00 PM EST. There is a countdown timer and packs sold counter on the website. Packs can be opened on the website under the inventory tab. Cards can also be viewed and sorted on the same tab. (At press time pictures were not displaying for cards/packs and the sorting feature for cards was not working. Topps is working on a resolution.)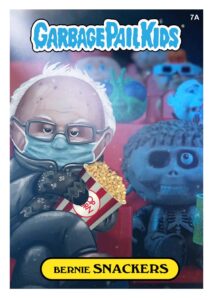 The set contains 9 cards done by Topps artist Lars Kommienezuspadt. There are both a and b name versions making the total set 18 cards. Collectors can pull four different types of cards from packs; base (Base "a" 59.5%/Base "b" "?") , rare artist sketches (10.5%), epic artist raws (3%), and legendary artist signatures (0.5%). The number of cards minted is not set and will be limited by the number of packs sold during the 3 day event.
Perhaps the main draw of the sale is the burn event that will go on at the same time as the sale. Once collectors open their cards they can burn then to earn points. Each card type has the following Burn Value: Base b (1 point), Base a (2 points), Artist Sketch (5 points), Artist Raws (20 points), Artist Signatures (150 points). Collectors can burn cards within the inventory tab by clicking on each card type. Cards can be burned only until 2/1/21. At the end of the event collectors will earn 1 Mitten Pack for every 5 points they have burned. Mitten packs will contain base mitten cards along with the chance to receive Golden Mitten cards, and rare animation cards.