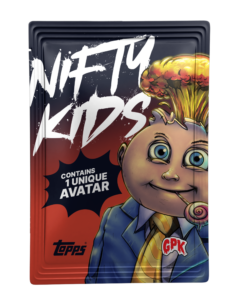 Topps today announced Garbage Pail Kids Nifty Kids, a brand new digital NFT product on the WAX blockchain. The new NFT set is set to be available on 10/28/21 at 1:00 PM EST. This NFT set will be unlike anything Topps has offered before. Nifty Kids will offer 10,000 unique GPK combinations available as 1/1 NFTs. To purchase a random combination, collectors will go to the RareDrop.io website. Collectors can also browse all the combinations on the website. Each combination can only be purchased once, so every NFT GPK character will be different and a 1/1. Each GPK Nifty Kid can be purchased for 329 WAX, which is nearly $100 based on current market pricing. There are six different characters with six different body pieces; body, head, eyes, accessories, mouth, and hairstyle. The characters available are Adam Bomb, Dead Ted, Mad Mike, Nasty Nick, Tee-Vee Stevie, and Wrapping Ruth. With six characters and six different body parts, there are 46,656 unique combinations possible, but Topps is limiting the purchase to 10,000 for this series. The Nifty Kids will only be available to purchase for 48 hours. Topps says it is planning to use these Nifty Kids in the future to unlock free NFT airdrops, an exclusive member area in discord, and more. See pictures below for each kid as themselves with their own pieces before being mixed up, as well as some random versions.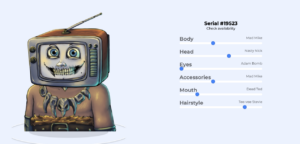 2021 has been a year marked by transition for collectors who have collected Topps NFTs (Non-Fungible Tokens). Topps originally launched their NFT project on the WAX Blockchain back in May 2020 with the release of Garbage Pail Kids OS 1. Topps went on to launch numerous GPK sets as well as other brands like MLB and Godzilla. The last time GPK collectors saw NFTs from Topps was the Food Fight release in Feb 2021. After the early 2021 NFT releases, Topps went quiet. All releases stopped and communication from the company on Telegram and Discord ceased. This was until the launch of the Bazooka Joe NFT brand on the ToppsNFTs.com website in July. Much to collector's surprise, Topps new website was built to use the AVAX blockchain (Avalanche). Since the launch of Bazooka Joe, Topps has launched other brands like MLB, Bundesliga soccer, and Godzilla on their new ToppsNFTs.com website. Topps representatives have returned to online groups like Discord, and have been participating in answering users questions. However, the company has not been clear on the future of Topps NFTs, their partnership with WAX, and GPK NFTs. After months of inactivity on WAX, the company returns with the new GPK Nifty Kids set.
Since the launch of ToppsNTS.com, Topps representatives haven't revealed much on the future of their partnership with WAX and what is to become of the legacy NFTs already released on the WAX platform. WAX representatives recently revealed in Telegram that Garbage Pail Kids NFTs are contractually tied to the WAX blockchain based on their contract with Topps. The remaining length of the contract has not been made public. GPKNews has asked Topps for comment on the claims made by the WAX representatives, but Topps has not issued any comments on their current relationship with WAX. Topps has also not shared any other future plans for GPK NFTs, including any future pack based releases. These unanswered questions bring a lot of uncertainty for collectors. GPKNews has asked Topps if they will continue with GPK NFTs on WAX, or move them to their own platform, once any contractual agreements end. Again, Topps has not responded to questions on their future roadmap for GPK NFTs. GPKNews asked Topps if their legacy WAX NFT projects would continue to be supported. The various GPK releases are spread across multiple websites and NFT standards. GPKNews also asked if there would be a bridge in the future to move legacy GPK NFTs from WAX to their new ToppsNFTs.com wallet. Again, Topps did not respond to any questions regarding support for legacy WAX NFTs. This also includes questions to Topps on the announced Tiger King burn event they had been working on prior to the launch of their new website. Until Topps is willing to share their roadmap and partnership info with WAX, collectors are left to speculate on the future of GPK NFTs.