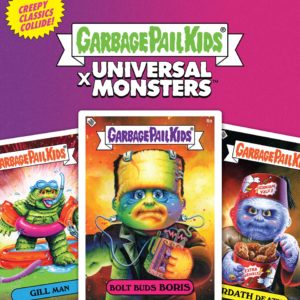 San Diego Comic Con is extremely hard to get tickets to. It's the most popular comic con in the country and its turned more into an entertainment mecca than comic related. Its massive popularity makes getting tickets tough. If you weren't able to attend, you might still have a chance at getting some Garbage Pail Kids merchandise from both Super7 and Creepy Co.
Super7 posted a message on their Facebook account today stating there would be Universal Monsters X GPK cards packs in their webstore sometime next week. They did warn the parks will be in limited quantities. In addition collectors visiting Super7 stores have said employees are telling customers they will have some packs available in stores soon as well. ToyWiz also briefly had packs and boxes for sale yesterday, but sold out quickly. Keep your eyes open if you are still looking for card packs.
Creepy Co. also mentioned recently that they would be posting their limited extras from SDCC on sale soon via their website. If you missed out on bop bags and the pin/lanyard you will get another chance soon.