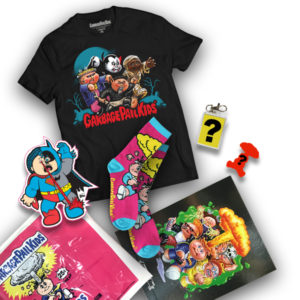 Update: 7/1 – More merchandise from Creepy Co. was announced on the SDCC Atomic Toybox page. The Garbage Pail Kids Mystery Bags will be exclusive to SDCC. For $50 collectors will get $75 worth of GPK merchandise. Every bag will contain one of Creepy's GPK t-shirts, an exclusive GPK print, GPK socks, an oversized sticker, and a random assortment of other GPK merchandise. The bags will be available in one of three different Classic looking oversized wrappers measuring 13 x 10.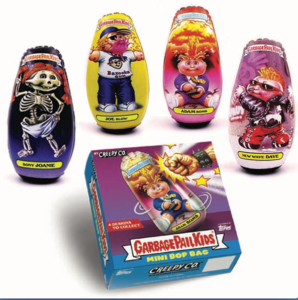 It's been a while since Creepy Co. has launched any Garbage Pail Kids Merchandise. That's about to change at this years San Diego Comic Con. As announced on the SDCC website, the Atomic Toybox booth will once again feature GPK goods from Creepy Co. The first item being offered is Garbage Pail Kids Bop Bags. These mini versions able to be displayed easily on a desk or cabinet. They measure 8″ x 4.5″ and will come in their own box. The four characters being offered are Adam Bomb, Joe Blow, Bony Jonie and New Wave Dave. They will sell for $10 each at the show. Anyone purchasing all four will receive an oversized GPK die-cut sticker.
Just like last year, they will also be offering a new lanyard and pin combo. This year's pin features the Bruce Pain character from 2014 Series 2. The lanyard/pin combo will be available for $15, with a limit of 3 per customer. This adds to the already growing amount of new merchandise for collectors at this year's SDCC.