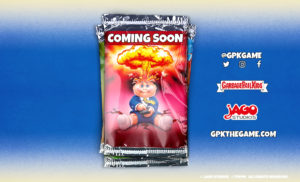 Get your iPhone and Android cell phones fired up, because soon you will be collecting and battling with GPKs digitally! Today startup video game developer Jago Studios in partnership with Topps, announced a mobile game based on the Garbage Pail Kids franchise. Information about the game is sparse. Right now based on their website and social media accounts the game is called, "GPK the Game". In the press release Jago describes the game as a "card-collecting role-playing game". The coming soon images provided by the company show a number of different "packs" featuring Adam Bomb on the front. The company says they will be using characters from the OS series all the way to current releases. It would appear there will be more to the game than just opening packs and collecting cards. Topps Global Licensing President Ira Friedman also mentions in the press release that players will be able to, "virtually battle with GPK collectible cards".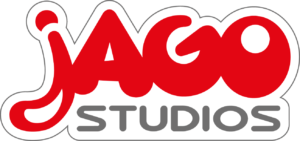 Jago Studios is a brand new video game company started by CEO Stuart Drexler. Drexler has worked on digital games based on a number of major toy franchises over the last 20 years. For Disney, Drexler oversaw the hugely popular Club Penguin game. Topps has also been involved with a number of the same franchises, producing card sets over the years. This will be the debut game from Jago Studios. The company was launched specifically with the license from Topps to produce card collecting and role playing games for the GPK brand.
Drexler, who will also serve as the Executive Producer for the game, said this on his partnership with Topps, "We are thrilled to be working with Topps and look forward to bringing these memorable characters to life in a new way fans can interact with, directly on their mobile devices." Jago says the game is currently in a private beta stage. No release date for the game has been announced. The game will be "free-to-play" and available worldwide in the App Store and Google Play. Collectors can get updates from the company directly at gpkthegame.com  or on Twitter, Instagram and Facebook.
GARBAGE PAIL KIDS® MOBILE GAME COMING FROM JAGO STUDIOS & TOPPS

The Controversial '80s Craze Inspires New RPG Card Battler

LOS ANGELES— May 22, 2018— Jago Studios, an independent developer of mobile games, today announced it is partnering with The Topps Company on the development of an upcoming mobile game based on Garbage Pail Kids (GPK). The card-collecting role-playing game will include characters from the original GPK line of collectible trading cards and stickers issued by Topps in the 1980s, as well as contemporary cards more recently released.

"Garbage Pail Kids are icons of the '80s and a mobile card battler featuring their freaky antics is a natural expansion for the infamous and beloved brand," said Stuart Drexler, Jago Studios Founder and Chief Executive Officer. "We are thrilled to be working with Topps and look forward to bringing these memorable characters to life in a new way fans can interact with, directly on their mobile devices."

Recently celebrating its 30th anniversary, GPK enjoyed massive playground popularity in the 1980s as children around the world collected and traded hundreds of millions of cards, much to the disgust and dismay of their parents. Depicting kids in foul and comical scenarios, such as Fryin' Brian, sizzling in the electric chair or Tee-Vee Stevie, mesmerized by multiple screens, GPK created over 600 collectible characters between 1985 and 1988. Fans loved the outrageous parodies and passionately worked to complete their collections, with many schools banning GPK cards outright, claiming they were a distraction to students. New GPK packs were issued in 2003 and were met with massive enthusiasm, initiating a new era for the notorious brand. Garbage Pail Kids cards continue to sell today at over 14,000 retail outlets across North America.

Currently in private beta, this game designed for GPK fans is the debut project from Jago Studios with Drexler as Executive Producer. Drexler founded Jago Studios in 2017, launching the company with the exclusive license to develop card-collecting and role-playing games across platforms for GPK. He brings over 20 years of experience creating interactive games, toys, and content for global brands including Moshi Monsters, Habbo, Barbie, Elmo, Harry Potter, and LEGO. At Disney Interactive Media Group, Drexler oversaw product development across all of Disney's virtual worlds, including the ground-breaking Club Penguin massively multiplayer online gaming platform.

"The game from Jago Studios will bring our Garbage Pail Kids to mobile devices around the world in a new way people haven't had before," said Ira Friedman, Vice President, Global Licensing at The Topps Company. "For fans from the '80s or the new generation just learning about the brand, virtually battling with GPK collectible cards offers a new mobile social experience that remains faithful to the irreverent heritage of Garbage Pail Kids."

The upcoming free-to-play mobile game will be available worldwide on the App Store and Google Play. For more information and to receive updates on the game, visit gpkthegame.com or follow @gpkgame on Twitter, Instagram and Facebook.

About Jago Studios
Founded in 2017, Jago Studios creates interactive social entertainment oozing with irreverence and virality. Their core team of game and brand veterans has decades of experience developing high profile, influential entertainment licenses, and intellectual properties. Jago Studios invents, designs, and launches compelling play experiences made for mobile-first lifestyles, tickling the funny bone and strengthening meaningful social connections as people play together and laugh together. Jago is currently creating a series of comical free-to-play mobile RPG Card Battlers. Visit jagostudios.com for more information.

About The Topps Company

Founded in 1938, The Topps Company, Inc. is the preeminent creator and brand marketer of physical and digital sports cards, entertainment cards and collectibles, and distinctive confectionery products. Topps' leading sports and entertainment products include Major League Baseball, Major League Soccer, UEFA Champions League, English Premier League, Bundesliga, Indian Premier League, Star Wars, WWE, UFC, Wacky Packages®, Garbage Pail Kids®, Mars Attacks® and other trading cards, sticker album collections, and collectibles.  Topps' app portfolio, including Topps BUNT®, Topps NFL HUDDLE®, TOPPS KICK® and Topps® Star Wars℠: Card Trader, has been a hit with millions of fans around the world.  Topps' confectionery brands include Ring Pop®, Push Pop®, Baby Bottle Pop®, Juicy Drop® Pop, and Bazooka® bubble gum.  Topps was acquired by Michael Eisner's Tornante Company and Madison Dearborn Partners in October 2007.  For additional information, visit Topps.com and Candymania.com.