Updated 9/12 to remove Magnus Von Robotsoon and add Emma Burges per the checklist from Topps.
Updated 7/20 to add Ryan Moffett
Updated 5/29 to add Mike Stephens.
Updated 5/17 to add Clinton Yeager.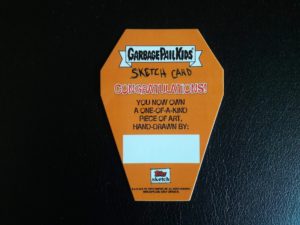 Update 9/12: Topps has released the official list of sketch artists for the first time as part of their checklist. The checklist can be found here. The article has been updated below to reflect all official names.
Topps has decided to make a number of changes to the sketch cards for the next retail set. One change right off the bat is the early jump start they have given the sketch artists. Before being officially announced by Topps, sketch artists were invited and sketch blanks already sent out to begin work! With a perspective fall launch, artists have been given ample time to complete the sketches. A mid-June deadline has been set by Topps for artists to return their batch of sketch cards.
Perhaps the biggest change to the sketch cards is the cards themselves. As stated in the e-mail invite to artists, Topps is going with a "Horror" theme for the upcoming set. While artists can still draw any of the previous approved characters, they are being encouraged to draw previous horror themed sketches this time around. The sketches all feature a new orange banner with black lettering for the first time. Orange nameplates are also found on the front of regular sized sketches. Classic horror GPK characters adorn the backs of the cards as well. Nasty Nick appears on the back of the regular and panoramic sketches. While Dead Ted and Weird Wendy can be found on the back of the new 3-panel sketch type, Tryptych. This new sketch type has been used previously in Star Wars sets by Topps, but is making its GPK debut. The tryptych looks to be replacing Dual Artist Panoramic sketches. Artists are are no longer being asked to complete those. Topps is also staying true to the theme by offering for the first time coffin shaped die-cut sketches. Artists were given both coffin and trashcan die-cut sketches to complete. After a small survey of artists it would appear all were given the same number of sketches to complete. Each artist is set to complete 36 regular sized, 8 puzzle, 6 die-cut (mixture of coffin and trashcan), 3 panoramic and 2 tryptych. Some artists who have already received their sketches have complained of quality issues. Many artists are reporting that some or all of their tryptych sketches came creased. They also have a handful some badly off centered regular sketches. No word yet from Topps if those sketches will be replaced prior to production.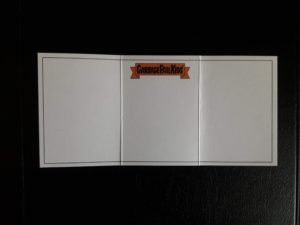 The confirmed sketch lineup for the upcoming set is just as robust as the previous offerings. The last set, 2017S2 Battle of the Bands, had a record 55 artists take part. Of those 55, so far the following 44 have confirmed they are coming back. Those returning artists are; Bryan Abston, Simone Arena, Ro Garcia Astorga, Quinton Baker, Michael Barnard, Bobby Blakey, John Brewer, Neil Camera, Pat Chaimuang, Daniel Contois, Jasmine Contois, Sobot Cortez, Jason Crosby, Dave Dabila, Vincenzo "Chenduz" D'Ippolito, Joseph "Grotesque" Dobbins, David Gacey, Patrick Giles, Jon Gregory, Kelly Greider, Jason Heil, Lowell Isaac, Simon Jacobsohn, Robert Jimenez, Kevin Lea, Paul Mangione, Mike McHugh, Rory McQueen, "Smokin" Joe McWilliams, Chris Meeks, Lily Mercado, Rich Molinelli, JM Monserrat, Victor Moreno, Darrin Pepe, Steve Potter, Cathy Razim, Chad Scheres, Brent Scotchmer, Matt Steffens, Floydman Sumner, Gregory Tilson, Dan Burn Webster, and Gavin Williams. A total of 11 artists, for various reasons, have decided to not do GPK sketch cards this time, they are; Mike Arnold, Sean Bolger, Josh Ginter, Cecilia Granata, Marisol Henriquez, Matthew Kirscht, Ande Moores, Barry Nygma, Anthony Skubis, Magnus Von Robotsoon, and Matthew White.
Topps isn't stopping there. So far an additional 14 artists have been identified that are either new to GPK, or returning sketch artists. After making their debut on last year's online GPK Classic set the following artists will make their retail debuts; David Acevedo, Joey Fitchett, Shane Garvey, Daniel Goodroad, and Rickey Kipfer. Also, Dennis Gortakowski, Ryan Moffett, and longtime GPK artist David Gross will be making their GPK sketch card returns after some time off. Finally, Topps has added brand new GPK artists Emma Burges, Jay O' Leary, Shawn Cruz, Clinton Yeager, Mike Stephens and Todd Rayner to the lineup. That brings the current known sketch artist total to 58. That is a new record high for a GPK set. There could still remain some artists out there that haven't spoke up. This article will be updated as new artists begin known.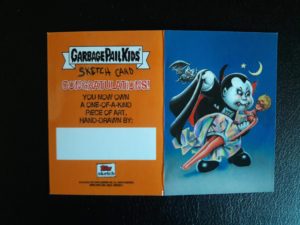 The final big change to sketch cards this time around is centered on artist return cards. In previous sets artists could e-mail a scan of the card to Topps for approval. However, after a number of controversies within the card hobby, Topps is changing the rules. Last year with the Star Wars sets rumors begin to swirl online about a few artists that were using questionable means to complete sketches. From using an overhead projector, to tracing images, to even using photocopied images, collectors started to question the legitimacy of sketches from a select few artists, (Note: No artists being questioned have worked on a GPK set to date.) There were also rumors of artists having other artists do their returns for them. Topps also begin to see artist returns being sent to collectors from artists prior to the set's release. This all has added up to changes across all Topps brands when it comes to artist sketches. Starting with this next retail set, all artist returns need to be completed and mailed back to Topps with the regular sketch cards by the deadline. Topps will work to approve the sketches, and mail them back to the artists just prior to the set's release date. In turn artists can deliver to their clients upon the release. While it does protect the quality of sketches going out, it opens up the possibility of shipping loss and damage. The "banned sketch" list continues to be the same. Artists are not allowed to sketch cards featuring Stan Lee, Gene Simmons, the Hundreds set, Riot Fest set, and all Disney properties including Star Wars and Marvel.
Expect sketch previews to start showing up from artists as the art director begins approving sketches. While no official announcement has been made, except a fall 2018 launch for 2018 Series 2 Garbage Pail Kids.