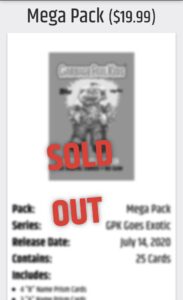 Can't stop that tiger! Today's digital launch of Topps x WAX GPK Goes Exotic sold out in just over an hour. Collectors who are part of the Garbage Pail Kids Trading group on Telegram were given a password at 11:30 EST to allow early access buying. All 7,000 Mega packs sold out during the early sale period in only 24 mins. By 12:37 EST the website was showing all 13,000 Standard packs were sold as well.
While the sell out was a huge success for WAX and Topps, all did not go smoothly. Collectors were hit with delays and errors almost immediately after the early access password was released. Many collectors reported their credit/debit cards were declined at the initial purchase. Those that were able to purchase saw a delay, initially a few mins, but up to 30 mins to receive packs in their account as the payment process worked its way through. Perhaps the most frustrating thing for many collectors was cancelled and refunded orders after the fact. Representatives from WAX explained in Telegram that the huge demand caused a giant backlog for the payment processor. Therefore, packs were still being sold before previous sales were issued to accounts. This caused packs to be oversold, and refunds issued. More than likely packs sold out much earlier than the 1:07 shown on the website.
This is a huge learning for WAX and Topps. This also shows why choosing GPK to be the test dummy, and Tiger King to be the second release made a lot of sense. If demand was this large for GPK, what is going to happen when Star Wars or baseball cards are launched? The companies now know what they need to work on for the next release. Company reps have already hinted there will be changes for the next release. Purchase limitations are one thing being considered. They also said they would take a look at eliminating any sort of early password access.
What Topps and WAX have done is show there is a huge demand for digital cards. You can bet a OS 2 release will see a significant increase in print run. The sky seems to be the limit here for both companies if they are able to manage through the hiccups.