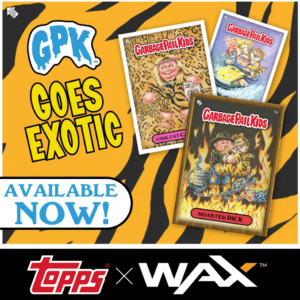 Digital collectors finally are getting their second round of Garbage Pail Kids cards. Today Topps x WAX launched GPK Goes Exotic. This marks the second set from the two companies, who have partnered up to offer digital collectibles on the WAX Blockchain. Back in May the companies launched GPK OS 1. The packs sold out in just over a day. Secondary market prices have continued to rise in the two months since. This set is based off the Netflix documentary phenomenon, Tiger King, that has become one of the highest viewed shows in their history. The set contains the same 30 cards, (15 with a/b versions), that Topps offered earlier this year in 3 online physical sets. GPK artist David Gross did all the original art for the cards. In addition to base cards, collectors can expect to randomly find Prism, Tiger Stripe, and Tiger Claw parallels of all 30 cards. There are also 6 rare Collector Edition cards randomly inserted into packs.
Collectors who want to participate in the launch can purchase packs with credit/debit cards only at toppsgpk.io. Accounts are simple to create if the collector doesn't have one already. Once again there are two different types of packs to choose from. The Standard Pack contains 5 cards and costs $4.99. Mega Packs contain 25 cards and costs $19.99. There will be 13,000 Standard, and 7,000 Mega packs available to purchase for this set. This equates to a total of 240,000 cards. This is much higher than the 110,000 for the GPK OS 1 digital set. WAX has not put any purchase limitations on packs for this release. Collectors who joined the Telegram GPK Trading group were given early access to purchase packs.
Insert rates for each card type for both packs is below, along with estimated print run totals. The reason the print runs are estimates is due to the way cards are minted. Cards are not created on the Blockchain until a pack is opened. Percentages are followed for each insert type. This means that everyone, from the first pack opened to the last, still has a chance to pull any of the cards. So while the numbers say there should be an average of 80 for each collector card, it could really be a couple less, or a couple more of each one. This gives you a good idea roughly to expect for each card type.

Total Cards – 240,000

Standard: 13,000 Packs x 5 cards per pack = 65,000 cards
Mega: 7,000 packs x 25 cards per pack = 175,000 cards

Prism "B" Names – 35,800

Standard: 13,000 packs x .6 per pack = 7,800
Mega: 7,000 x 4 per pack = 28,000
35,800 total prism / 15 different names = 2,386 each B name Prism

Prism "A" Names – 26,200

Standard: 13,000 packs x 0.4 per pack = 5,200
Mega: 7,000 x 3 per pack = 21,000
26,200 total prism / 15 different names = 1,746 each A name Prism

Tiger Stripe – 4,800

Standard: 13,000 packs x 0.1 per pack = 1,300
Mega: 7,000 x .5 per pack = 3,500
4,800 total Tiger Stripe / 30 different names = 160 each Tiger Stripe

Tiger Claw or Collector Edition – 480

Standard: 13,000 packs x 0.01 per pack = 130
Mega: 7,000 x 0.05 per pack = 350
480 total Tiger Claw / 30 different names = 16 each Tiger Claw
480 total Collector Edition / 6 different names = 80 each Collector Edition

Base Cards – 74,460

Standard: 65,000 – 13,000 Prisms – 1,300 TS – 130 TC – 130 Collector = 50,440 total base cards
Mega: 175,000 – 49,000 Prisms – 3,500 TS – 350 TC – 350 Collector = 121,800 total base cards
172,240 total base cards / 30 cards = 5,741 per base card
With the print run having increased significantly it will be interesting to see how quickly packs sell. A smaller card set compared to the previous release will also have ripple effects on the secondary market. Another important thing to look at will be the number of new collectors that show up for this release. Many people missed out the first time since packs sold out quickly. WAX has also announced that initial buyers of Goes Exotic will be eligible to win rare Golden cards. No other details such as how many, which cards, or when they would be distributed was released. For collectors involved in the digital collectible space its certainly an exciting time indeed.