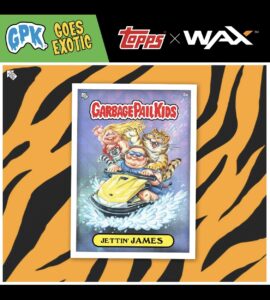 Can't get enough of Netflix's popular Tiger King documentary? Then Topps has you covered. Earlier this year Topps released three GPK sets based on Tiger King that were available for purchase on Topps.com. Those sets proved popular with collectors and fans of the show. The first series set a record for sales for a online only release. Now digital collectors will have a chance to buy and trade those cards as part of the WAX Blockchain platform. This will be the second release on the platform after last month's very popular release of OS 1 cards. Packs of OS 1 sold out in just over 24 hours, and continue to be actively bought, sold, and traded in various online groups.
Today Topps shared with GPKNews details around the upcoming release of GPK Goes Exotic. The set will feature all 30 base cards, 15 with a/b versions, that were available in the original physical release. Those cards can be found in Base versions (Common), Prism (Uncommon), Tiger Stripe (Rare), and Tiger Claw (Super Rare). There will also be 6 Collector's Edition cards, 3 with a/b versions. These will also be Super Rare.
Topps is increasing the number of packs available this time around at launch. Standard Packs will be available one again at $4.99 each. Each pack comes with 5 cards. There will be 13,000 standard packs available. The Mega Pack returns at the price of $19.99 each. This time the mega pack will come with 25 cards. There will be 7,000 mega packs available. There will be 240,000 total cards available for the GPK Goes Exotic release. This is up significantly from the OS 1 total of 110,000.
Other details such as card rarity numbers and any buying restrictions at launch haven't been released yet by the companies. Below you can check out some examples of the cards. GPK Goes Exotic is still to launch July 8th at 12:00 PM Eastern time.