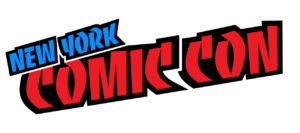 This year's New York Comic Con is quickly approaching. Topps has big plans once again for this year's show. Today the company announced a 9 card Garbage Pail Kids Puzzle Giveaway. This initiative matches what the company did at this year's San Diego Comic Con. Collectors will be able to collect 9 different cards at various booths around the show. The 9 puzzle cards will form a new piece of GPK artwork with a New York theme done by artist Chris Meeks. The artwork has not yet been revealed by Topps. Cards are first come first served at the show, and proved hard to get for some at SDCC. There will once again be a limited number available at each booth, each day of the show. This year's NYCC is set to take place Oct. 6-9. Topps has many more GPK announcements coming in the next few weeks for the show. The checklist with booths listed is below, followed by the today's announcement from Topps.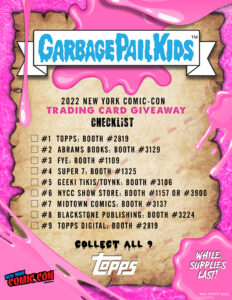 Garbage Pail Kids Trading Card Giveaway Set for New York Comic Con
Topps is pleased to announce a special opportunity for Garbage Pail Kids fans to collect nine unique GPK puzzle cards during the upcoming New York Comic Con (Oct. 6-9).
When completed, the puzzle reveals a New York City-centric visual montage created by GPK artist Chris Meeks. Meeks' inking talents were recently showcased in Camp Daze, the third book in the GPK middle-school series by noted author R. L. Stine. Meeks is also a member of the creative team behind Garbage Pail Kids: Origins, the groundbreaking new comics series from Dynamite Entertainment. (Issue #1 on sale October5.)
Here's the scoop: Specific trading cards will be distributed at designated locations throughout the Javits Center exhibition hall. These locations include two separate places within the Topps booth as well as participating GPK licensing partners and select retailers. The nine different cards are available free — while supplies last. The attached checklist graphic provides the names of all participants along with their corresponding booth numbers.
"The resounding success of the GPK puzzle card giveaway we hosted at the San Diego Comic Con made the upcoming NYCCeffort a no brainer," says Ira Friedman, head of GPK Licensing for Topps. Fans of all ages are going to have a blast chasing all nine NYCC cards, completing their puzzles, and connecting with new and long-time Garbage Pail Kids communitymembers," notes Friedman.