Topps announced Thursday that they would be selling 5 new jumbo character card sets at the New York Comic Con this weekend. Just like that collectors begin showing up to purchase, and found something odd with both the Mean Gene and Boozin Bruce sets. Card #1 and #2 in those character sets are both from The Garbage Gang series in Australia. The front of the cards are identical. What is odd is the backs. Besides being numbered differently they also represent different years; 1987 and 1988. Thanks to GPK collector Ke We for pictures of the error cards below.
Collectors who purchased sets Thursday only received the error cards. Fast forward to Friday, collectors who purchased those sets were handed separately the correct missing Basuritas card from Argentina. So those collectors received both the error variation, and the corrected variation. Thanks to geepeekay.com master Matt Oldweiler for the picture of the correct cards.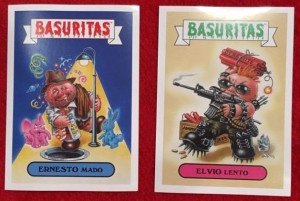 Customers at Topps booth were told they printed a total of 250 of each character set for the New York Comic Con. They also told customers that there were not that many corrected cards printed of Gene/Bruce so not all error sets would be able to receive the correct version. No word yet if customers that purchased on Thursday would be able to go back and claim the corrected cards. If you are going I would suggest to not delay if you want to get everything thats being offered.