Since Topps didn't see fit to promote anything at this year's NYCC we will reveal here what collectors come across at the show. This post will be updated throughout the weekend as new info is revealed.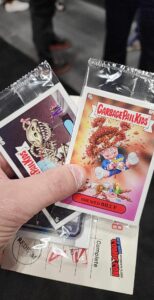 Update #2 – There are cards! GPKNews was tipped off last night that there would be some GPK promo cards at the Topps booth. Collectors that signup and attend the "factory experience" at the booth, get a free pack of promo cards from the Topps vending machine. The factory experience is a very small part of the booth with some mini games to play. GPKNews was told the NYCC GPK promo set would be 10 cards, mostly of reprinted artwork that had a NYC theme, the cardbacks feature the NYCC logo. There appears to be two different packs available that make up the complete 10 card set. Additionally, the factory experience had an uncut sheet of cards from the NYCC set on display. Employees were also wearing shirts at the booth with artwork from the GPK NYCC set. Thanks again to Adam Marks for sending along info on the cards!
Update #1 – As usual Topps has large blowup cards on the walls of their booth. Some of the GPK cards feature new artwork that appears to be from the unannounced 2023S2 retail set. In the worst kept secret in the hobby the set will be a space/sci-fi theme, and is expected to release in late November. Thanks to Adam Marks for the pictures and info!