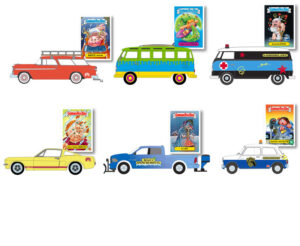 The popular diecast car website, 3000toys.com, has posted the mock-up images for Greenlight Collectible's Garbage Pail Kids Series 3 diecast cars. Thanks to collector James Berger for the heads up. Additionally the list of cards that come with the cars were revealed. Series 3 will have:
• Bruce Moose – 1955 Chevrolet Nomad
• Amped Andrea – 1964 Volkswagen Samba Bus with Surfboards
• Mauled Paul – 1965 Volkswagen Panel Van Ambulance
• Shattered Shelby – 1966 Shelby GT350
• Ig Lou – 2015 Ram 1500 with Snow Plow and Salt Spreader
• Traffic Lady Katie – 1962 Austin Mini Cooper MkI
Traffic Lady Katie is this series new price of art. There's also been an update to the release day of the cars, as the time frame has slipped to Mar.-Apr. of 2021. This matches the same time frame as the GPK Mack Truck release. As with previous releases there will be rare Green Machines randomly inserted into cases.