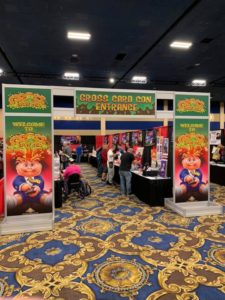 The third annual Las Vegas Gross Card Con was held last weekend at the Westgate Casino in Las Vegas. Collectors and artists from around the world ascended on Vegas to reacquaint with buddies, meet new friends, and get all the Garbage Pail Kids they can handle. This years show was the biggest yet with a staggering 18 current and former GPK artists in attendance. There were also plenty of GPK focused activities for collectors and artists alike. Perhaps the highlight for most in attendance was just being able to hang out with their fellow collectors and artists they chat with on a daily and/or weekly basis online.
This years Las Vegas ToyCon was held in the event center of the Westgate Casino. This was the best setup, by far, of the three Las Vegas shows. The entire show was held in one room. This made things a lot better for everyone involved and allowed the general ToyCon guest to easily find the GCC area. The 12 regular artists who attend GCC were located in their own section of the show, complete with an archway banner letting everyone know they were entering GCC. The new sketch artists who were attending for the first time were in artist's ally in the adjoining isles. Clint Coleman's GPK & Wacky Warehouse booth was right outside the entrance to GCC.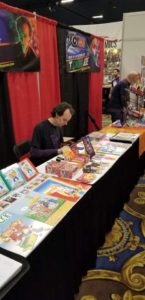 As usual the biggest highlight of the show for collectors is seeing all the artists. OS artist Tom Bunk was once again the headlining artist at the show. He was offering his new GPK dollhouse print for sale at the show, and it proved to be a big hit. The Gross Card Con sketch shirts being offered by Joe Simko and Jeff Zapata were also a popular item for collectors. Sales of the shirts with sketches kept both artists busy the entire show sketching at their booth. In fact a majority of the artists spent a lot of time working on commissions at the show. Another highlight from the show was David Gross' third GPK Rejects book. Each book comes with a sketch and is filled with pages of great gags that were not used by Topps. Jon Gregory's black canvas paintings were suburb to look at in person. It wasn't just GPK merchandise that was selling well either. Both Michael Barnard and Chad Scheres were busy at their booths selling a number of their own original creations. Mark Pingitore also had all the Magic Marker Art items, including new magnets and promos cards for upcoming sets. In addition all sic of the first time artists attending seemed to really enjoy themselves, not only meeting collectors, but also meeting their fellow artists.
Another large part of this year's show was Topps finally acknowledging the show existed. While Topps didn't attend in person, they did allow one of David Gross' unused 90's gags to be created as promo cards. There were a number of ways to obtain both promo cards at the show, and they were a popular item for collectors. In addition Topps promoted GCC on both their GPK Facebook page, and the Topps Twitter account on Friday. This acknowledgment is a huge advancement for Topps, and shows collectors that there may be some change afoot with the brand.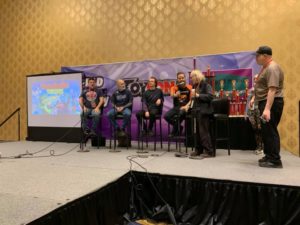 There were also plenty of special GPK themed events for collectors during the show. All three days of the show featured a Scavenger Hunt. Clint Coleman would hide some exclusive ToyCon cards, sketch cards, and other goodies around the hotel for collectors to find. Saturday morning was the VIP breakfast with the artists. Many of the artists attneded with collectors who were SuperVIPs or purchased the breakfast. This setting allowed collectors a chance to talk with artists through a meal. Attendees to the breakfast also received a set of Topps Promo cards, and a special Adam Bomb decorated cookie from Joe Simko. Later that morning brought on the usual card chat with the artists. This year's chat started off with Jago Studios CEO Stuart Drexler. He gave a quick 10 min. presentation on GPK the Game. He shared some of the game mechanics, what items they were focusing on, and general developments on the dame. He also handed out an exclusive GPK the Game sticker to collectors on Friday and Saturday at the show. That left only a minimal amount of time with the artists. While there wasn't a lot of new information to share, the artists did mention they were working on some projects that they thought would really push the brand forward. Unfortunately, they were unable to share any additional information about unannounced products. GPKNews was in attendance, you can find video of the card chat here.
This year's Vegas Gross Card Con ended up being a solid show for all involved. This was the best and cleanest hotel that show has been in to date. As mentioned above the show layout, while not perfect, was also the best its been. Next time not closing off the GCC area would lead to more general ToyCon foot traffic for the artists. In speaking with the artists at this years, show the vibe was it was a good show. Most artists made money, with a couple saying they had their best show day ever on Friday. The show ended up being a positive experience for almost all the artists. Every collector I spoke with really enjoyed the show. I think every collector will tell you the same thing. While it's great to see all the cool items available, the highlight of the show is hanging out with friends you talk to throughout the year. This show brings a couple of hundred of your closest hobby friends together. If you haven't attended a Vegas GCC show before, start planning now for next year, you will not be disappointed.
Check out a bunch of pictures from the show. Thanks to collector Jason Bryant for sharing some of his pictures as well!