The last few days have been interesting for news on the Garbage Pail Kids license front. Everything might all come to a head with this year's San Diego Comic Con in July. As we mentioned yesterday SDCC show organizers announced John Pound would be a guest at this year's show. If that isn't big enough for GPK fans, there appears to be quite a few licensed items on the horizon. This appears to be the golden age for GPK licensed merchandise.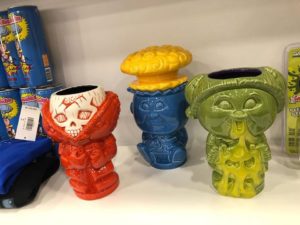 Last weekend, Topps attended the 2019 Licensing Expo in Las Vegas. Their sole purpose in attending was to promote and sell the Garbage Pail Kids license to perspective companies. These events always bring some news for collectors, and this one didn't disappoint. A picture to surface online from the Topps GPK booth revealed new GPK mugs will be coming soon. Beeline Creative, the company behind Geekitiki mugs, appears to be making three mugs. The mugs feature Adam Bomb, Bony Tony, and Leaky Lindsay. Attendees at the show mentioned the mugs would be debuting at this year's SDCC. GPKNews reached out to BeeLine for comment, but the company didn't respond.
In an article leading up to the Licensing Expo, Topps VP of Global Licensing Ira Friedman also mentioned additional upcoming licensees for the brand. Some like FYE, Jago, and Sprayground have already launched. Beeline was mentioned in the article along with Greenlight and their upcoming GPK themed die-cast cars. Additionally, a company called Ripple Junction has GPK t-shirts in the works according to Freidman. There is no other info for when or where these shirts could be launched. Again GPKNews reached out to Ripple Junction, but did not hear back.
Finally, Super7, a toy and apparel business based out of San Francisco, posted an interesting hint on their social media channels on Monday. In the post they advertised they would soon be revealing their SDCC exclusives for this year. The cartoon character in the post is carrying a bag, that just happened to have the "GPK" licensing logo on it. Once again GPKNews has contacted Super7, we will let you know if we hear anything back.