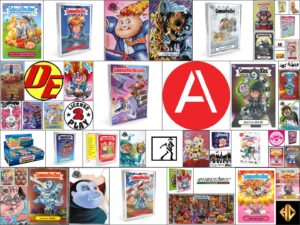 When future collectors look back at 2022 perhaps what will be most remembered are the giant increases in production for Garbage Pail Kids sets. Or maybe collectors are going to remember continued delays, followed by multiple releases at a fast and furious pace. Regardless, 2022 was another eventful year in GPK. Retail sets continued to see delays throughout the first half of 2022. Once again 2021 Vacation did not see production during the year, frustrating many collectors. Topps did release 2022 Book Worms and 2021 Chrome 4 in the second half of the year, (2022 Chrome 5 was also released on 12/23, but was too late to be included in the awards ballot.) When Topps finally released the sets, the result was an increase in production unlike anything seen in the GPK world in the last decade plus. Online sets saw a steady stream of releases during the year, that only increased in number in the last quarter of the year. Sales overall remained strong for online sets, with average print runs higher than ever before. Its clear demand and popularity of the GPK brand continues to increase year of year.
GPK licensed merchandise started returning to normal after more delays in 2021. Many products still saw delays in 2022, but it's clear companies have gotten a better handle on production delays and release dates. The highlight of GPK merchandise was a GPK video game from iam8bit. The 8-bit old school video game showed collectors what should have been back in the mid-1980's. GetAGrip continued a year full of very popular skateboard releases. While dolls of all types from plush, to bag clips, to vinyl all saw releases with original GPK classic figures the focus for licensees. Book publisher's also had highlights with Abrams calendar and cookbook, and Simon & Schuster GPK tarot book, and Dynamite comics being popular items.
2022 started out slow, but by the end of the year collector's wallets were left empty with numerous retail, online, and merchandise releases. Let's take a look back at what stood out in 2022 for Garbage Pail Kids. It's time for the 6th annual 2022 GPKNews.com Best of GPK Awards! Winners have been selected by the editor of GPKNews.com in seven categories, (NFT Set of the year and Rookie Sketch Artist was not awarded in 2022 due to limited options). Additionally, a Reader's Choice winner was also named in each category. Readers of GPKNews were able to vote in a poll on GPKNews' Facebook page in mid-December. On some awards there is agreement, while others vary in opinion. Let the debate begin! It's time to celebrate the best in GPKs for 2022!
And the winners are…
2022 GPK Retail Set of the Year
Winner: 2022S1 GPK Book Worms
Reader's Choice: 2021 GPK Chrome OS 4
There were two retail sets for collectors to collect in 2022. Most collectors like their shiny cards, and that was still the case as Chrome 4 won the Reader's Choice voting. However, Chrome 4 was marked by multiple spelling and editing errors throughout the set. This is one of the reasons why 2022S1 GPK Book Worms is the Retail Set of the Year. Collectors had been waiting nearly a year and a half for a retail release. The artists delivered with one of the better sets top to bottom for artwork and gags. Even if you weren't an avid reader, the subject matter was easy to understand and the new artwork was once again top notch. (Note: Chrome 5 was released too late in the year to be considered in this year's awards.) Honorable mention: 2021 Chrome OS 4.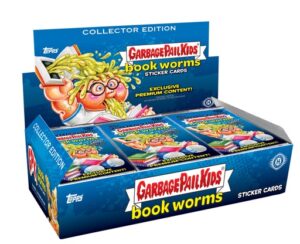 2022 Online GPK Set of the Year
Winner: Oh the Horror-ible Expansion Set (1-6)
Reader's Choice: 2022 GPK Sapphire (OS3 & OS4)
Topps took some new chances in 2022 with online offerings. The sets that sold the most were the sets that were not favored by GPK collectors, but instead resonated with other groups of collectors. Ermsy Entertainment Blend, GPK x MLB, and Taste Buds all set high sales marks, but were preferred by either fans of the artists involved, baseball collectors, or family members of breweries. Once again collectors choose shiny cards, and went with 2022 Sapphire for the Reader's Choice winner. GPKNews however is picking the Oh the Horror-ible Expansion Set (1-6) for Online Set of the Year. Horror themed cards will forever be a favorite of GPK collectors. The artists once again nailed the artwork and gags with the sets being some of the most popular of the year.  Honorable mention: 2022 GPK Sapphire (OS3 & OS4), Complexland Skateboard Deck Stickers, We Hate the 80's Expansion Set (1-6), Valentine's Day Disgusting Dating.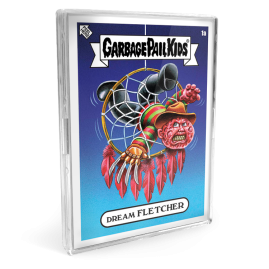 2022 Non-Traditional Set of the Year
Winner: Topps International Trading Card Day
Reader's Choice: Topps International Trading Card Day
2022 also saw Topps take some chances with the brand and offer sets in different scenarios other than traditional stores or online. That's why we have this new category this year. There were a number of sets only available at Cons or in hobby stores this year. Some were free, others could be purchased. None saw collectors spend more money on gas this year than the Non-Traditional Set of the Year Winner, Topps International Trading Card Day. For the first time, GPK was included in this yearly event. Collectors visiting their local hobby store could score a free pack of GPK cards. This set caught the imagination of collectors as prices initially soared for unopened packs and cards, before the realization of the production set in. It was a fun few weeks, as collectors traded to complete their sets. Honorable mention: ComplexCon California Takeover, Adam Bomb Mis-Fortune Telling Machine, SDCC Scavenger Hunt.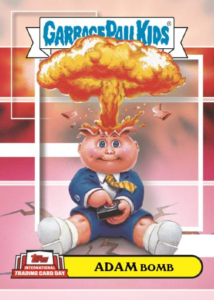 2022 Topps GPK Licensee of the Year
Winner: iam8bit
Reader's Choice: GetAGrip Skateboards
Another hotly contested vote this year for Licensee of the Year. iam8bit is this year's winner for their 8-bit GPK Video Game, Mad Mike and the Quest for Stale Gum. From the teaser video, to the game play, and even selling an actually NES cartridge of the game, iam8bit excelled at how to promote a brand and make a high quality product. Collectors were immediately brought back to the mid-80's in what should have been created then. Meanwhile Reader's Choice winner, GetAGrip continued to be popular with collectors for their skateboard decks, wheels, and general GPK merchandise. Honorable mention: GetAGrip, Dynamite Entertainment, GPK Nation, Abrams Books, Simon & Schuster.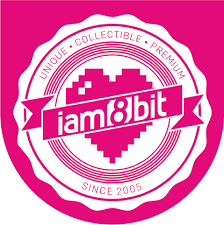 2022 Sketch Artist of the Year
Winner: Chris Meeks
Reader's Choice: David Acevedo
For the first time there is a back to back winner. This year's GPK Sketch Artist of the Year is once again Chris Meeks. There were not a lot of chances for artists to shine this year. With only one retail set, and three online sets some artists saw more opportunities than others. When it's all said and done though, Chris Meeks really dominated this category this year. His level of detail in pack inserted, online, and returns really made his work stand out. Some Meeks returns sold at prices only previously seen in final card artwork. With Pat Chaimuang not doing GPK sketches in 2022, it opened up the Reader's Choice award. After a lot of online promotion, David Acevedo beat out a number of other talented artists in a close vote for the reader's favorite.  Honorable mention: David Acevedo, Eric Medina, Mike Stephens, Jasmine Contois, and Greg "13" Treize.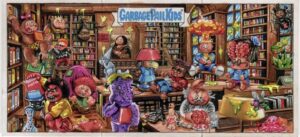 2022 GPK Artist of the Year
Winner: David Gross
Reader's Choice: David Gross
For the third straight year, David Gross is the GPKNews Artist of the Year. Gross also won the Reader's vote in a landslide. Once again his gag writing really is where he shines year after year. There were nearly two dozen gags in Book Worms and the online expansion sets that could have been considered for card of the year. Another great year for new GPK artwork!  Honorable mention: Rory McQueen, Joe Simko, Brent Engstrom.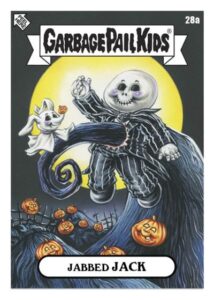 2022 GPK Card of the Year
Winner: Adam Book (Book Worms 72a Artist/Concept Brent Engstrom)
Reader's Choice: Adam Book (Book Worms 72a Artist/Concept Brent Engstrom)
Every year there are so many great choices for Card of the Year. 2022 was no exception, and the voting by readers showed. There were three cards that fought neck and neck all week in readers' voting. Adam Book barely edged out Jabbed Jack and Adam Bomb Skateboard Sticker to win. We agree, as the card of the Year goes to Brent Engstrom's Adam Book card from Book Worms. Collector's may complain they are tired of seeing Adam Bomb, but that's just not the case in voting or popularity of cards. Jabbed Jack was strongly considered as well, as the gag, (How did a Disney gag get approved!?), and art were excellent. Honorable mention: Jabbed Jack, Adam Bomb Skateboard Sticker, Beetle Julie, Joking Jack, Sapphire Steve.