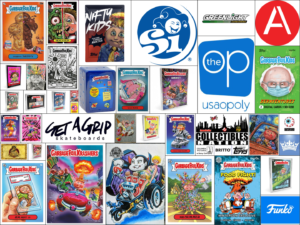 2021 is going to be remembered in the Garbage Pail Kids community as the year of the delay. Topps had big plans to followup on a hugely successful 2020, with a 2021 filled with cards sets, merchandise, video games, and licensed deals. However, it quickly became clear that GPK collectors would have to exercise patience. Most of the delays were caused by printing delays and shipping issues. Only one retail set made it to market in 2021, as both 2021S2 Vacation and Chrome 4 were pushed to 2022. The huge demand industry wide for trading cards meant only so many printing slots available to card manufacturers. GPK sadly is taking a backseat to other, more profitable brands in the Topps hierarchy, leaving collectors yearning to bust packs. Online releases saw its own multi-month delay as well. After a backlash from fans of the K-pop band BTS to a proposed card in the Shammy's set, online GPKs went on hiatus for four months. GPK collectors were once again left without an explanation from Topps and no online sets.
Officially licensed GPK products were not immune to delays either. Manufacturers, especially of toys, saw product announcements and shipping dates continue to get delayed. Merchandise sat, and continues to sit on ships in the ocean as manufacturing in China and port delays in the US has wreaked havoc on the entire industry. The early 2021 announcement of a mashup with Madballs and GPK only resulted in a few clothing items as the toys and cards have yet to materialize. Toy figures from Super Impulse and The Loyal Subjects saw delays of months. GetAGrip Skateboards released Series 3 wheels, while Series 2 sits on a ship in the Pacific. There were also numerous plans Topps announced they were working on at the end of 2020 that have yet to be launched, such as video games, and foreign card releases.
Despite the delays, there was still a lot for collectors to collect from online sets, to books, die-cast cars, figures, skateboards, coins, pins, and clothing. Let's take a look back at what stood out in 2021 for Garbage Pail Kids. It's time for the 5th annual 2021 GPKNews.com Best of GPK Awards! Winners have been selected by the editor of GPKNews.com in seven categories, (Retail Set of the Year was not awarded in 2021 since there was only one set released). Additionally, a Reader's Choice winner was also named in each category. Readers of GPKNews were able to vote in a poll on GPKNews' Facebook page in mid-December. On some awards there is agreement, while others vary in opinion. Let the debate begin! Its time to celebrate the best in GPKs for 2021!
And the winners are…
2021 Online GPK Set of the Year
Winner: GameStonk
Reader's Choice: Oh the Horror-ible Expansion Sets 1-2
Not quite as many online offerings from Topps this year. Online sets were put on hiatus by Topps after a proposed BTS card in the Shammy set caused controversy online. Sets that were offered were diverse. Two On Demand sets, con sets, horror, holiday and award sets all were among the available sets in 2021. Sales exploded for online sales with the majority of sets selling over 1000 copies. Rarely does a GPK set catch fire and bring in sales from outside the community. But that happened early in 2021 with this year's Online Set of the Year, GameStonk. The set was based on the real life revolt against Wall Street with the Reddit/GameStop scandal. Sales of the set exploded to just over 13,000 copies, making it the highest selling online GPK set ever, a record that may never be broken. Honorable mention: Oh the Horrible-ible Expansion (1-2), Krashers 2, Funny Valentine, and GPK Collector Club (Intro-Set 3).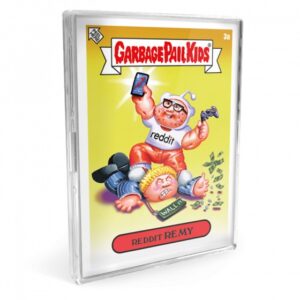 2021 NFT Digital Set of the Year
Winner: Food Fight
Reader's Choice: Food Fight
The NFT space is much like the Wild West, and with Topps in 2021, NFTs were certainly a wild experience. The year started with Topps continuing to focus on a number of NFT GPK offers, including this year's NFT Set of the Year, Food Fight. The set saw Topps try a number of new things in the NFT space to bring in new collectors. The set was a companion product to the retail physical 2021S1 Food Fight set. Packs of the physical product contained redemption cards for collectors to claim a free Food Fight NFT pack. This allowed for long time collectors who were skeptical of NFTs to give the technology a try. Sadly, after Food Fight, Topps abandoned the Wax platform to start their own website to offer the company's other NFT brands. Only a contract with Wax keeps GPK NFTs only on their platform for now, with Topps not empathizing the product. Honorable mention: GameStonk, GPK Nifty Kids, Bernventures.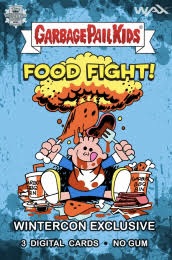 2021 Topps GPK Licensee of the Year
Winner: GetAGrip Skateboards
Reader's Choice: GetAGrip Skateboards
Want to know how your website has made it? Someone creates a bot to cheat an online poll! This year's reader's choice award was a hotly contested affair between two companies whose main focus is GPK. It's not surprising these two were at the top of the poll. Collectors who vote on this award always vote for the company who's main focus is GPK products. After the removal of thousands of bot votes, new comer GetAGrip Skateboards edged out last year's winner, GPK Nation, for this year's GPK Licensee of the Year. Collectors flocked to GetAGrip in 2021, crashing their website with each launch to claim Rory McQueen's exceptional artwork on skateboards and wheels. Accompanying promo cards with the same artwork on each product has vaulted GetAGrips products to the top of most collector's wantlists. Honorable mention: GPK Nation, Funko, The Loyal Subjects, Abrams Books.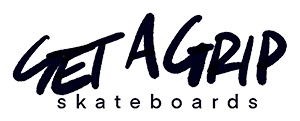 2021 GPK Rookie Sketch Artist of the Year
Winner: Andrew Artz
Reader's Choice: Adam Dobrzeniecki 
Topps started off 2021 using a new crop of first time GPK sketch artists in the 2021S1 Food Fight set. Those eight newbies were the extent of the new blood this year. This category is always a tough one, and the award could have gone to any of the talented artists. The Facebook campaigns are always strongest with this award, and this year was no exception. This ended up being a two horse race for collectors. Reader's choose Adam Dobrzeniecki for his wonderful full color sketches from Food Fight. GPKNews however, choose Andrew Artz as the Rookie Sketch Artist of the Year. Both his full color and B&W sketch work was among the best in the Food Fight set. Andrew also did the artwork on a number of licensed coins for GPK Nation in 2021. Who does Topps plan on adding to the lineup in 2022? Honorable mention: Adam Dobrzeniecki, Nik Muggli, Robert Ball.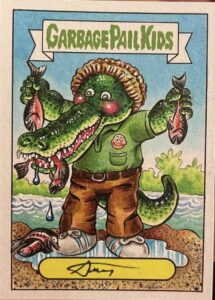 2021 Sketch Artist of the Year
Winner: Chris Meeks
Reader's Choice: Pat Chaimuang
Pat Chaimuamg and Jasmine Contois have had a strangle hold on this award for the past few years. This year for the first time some new faces moved to the top of the list. The GPKNews Sketch Artist of the Year is Chris Meeks. Chris shined throughout the year with exceptional work in Food Fight and both On Demand sets. His work in Krashers 2 was a giant highlight, form his postage stamp sketches to full color sketches. His official Artist Proof cards were a highlight both among collectors and eBay bidders. The reader's choice award for the first time in a while was a six artist race with Pat Chaimuang edging out Greg Treize to win. Another great year of sketches for collectors! Honorable mention: Pat Chaimuang, Greg Treize, David Acevedo, Rory McQueen, Jasmine Contois.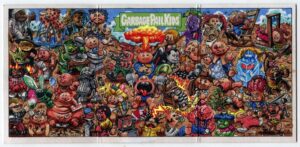 2021 GPK Artist of the Year
Winner: David Gross
Reader's Choice: David Gross
For the second year in a row, David Gross is the GPK Artist of the Year. David had another great year both from a gag and painting standpoint. He remains collectors favorite gag writer, from his Wax Max Food Fight card to an as yet unreleased Collector's Club card from set 4, the time spent on understanding what both experienced and casual collectors want stands out. David also had a number of stand out paintings. Joe Blow from Collector's Club Set 3, and Mid Summer from Oh the Horror-ible Expansion 2, both highlight some of the his intricate painting. He also introduced a new medium to GPKs with the use of linocut on his Beth Death card from Bizarre Holidays. Another year full of highlights for collectors! Honorable mention: Joe Simko, Rory McQueen, Brent Engstrom.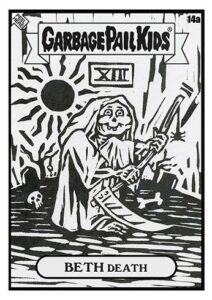 2021 GPK Card of the Year
Winner: Joe Blow (Collector's Club Set 3 #1a Artist/Concept David Gross)
Reader's Choice: Semi Colin (GetAGrip Skateboard Promo Artist/Concert Rory McQueen)
The choice for Card of the Year could have come from any number of options in 2021. Remakes of classic cards, innovative art styles, and collecting parodies were just some of the highlights for collectors this year. This year's GPKNews Card of the Year goes to the Joe Blow remake in the Collector Club Set 3. This year long club might be controversial among collectors, but the Joe Blow card painted by David Gross is a standout. The bright pink exploding gum on the black background, while Joe skates, is an eye popping example for collectors. Honorable mention: Semi Colin, Jim Mint 10, Beth Death, Wax Max.