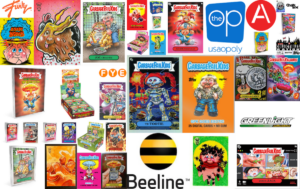 When the history of Garbage Pail Kids is written, 2020 could go down as one of the most important years for the brand. Everything Topps has done with the brand over the last couple of years has help lead to 2020, and the 35th anniversary of GPKs. When you throw in a worldwide pandemic that saw many collectibles markets explode, it created a perfect storm for GPKs. Topps decided to hit the gas pedal this year and throw everything at the brand and it looks to have paid off. 2020 retail sets saw the return of card back art and checklists, and the end of subset numbering. All things that had held back the brand for years in collectors minds. That could have been enough for the core group of collectors, but Topps wanted more. 2020 saw Topps finally relent, and being back Chrome technology to GPKs. Online sets also saw an explosion after declining in previous years. Topps has a full lineup already planned for retail releases, online releases, and foreign releases that will keep collectors busy in 2021.
While the card sets remain popular, Topps focus on licensed merchandise also helps explain the growth in GPKs. 2020 saw many different types of licensing deals made by Topps, many that will be felt for years to come. Companies like FYE, Just Funky, Beeline Creative, and Greenlight Collectibles all continued their deals in 2020 and offered collectors a wide range of quality merchandise throughout the year, many of it available in retail stores across the country. GPK Nation debuted in 2020 and took the hobby by storm with their online only launches of limited coins, pins, and other merchandise. Perhaps the most important licensed item was the debut of the RL Stine novel, Welcome to Smellville, published by Abrams books. Topps has a lot more licensed merchandise set to launch throughout 2021 for collectors to enjoy.
2020 saw so much in the Garbage Pail Kids world. Let's take a look back at what stood out in 2020 for Garbage Pail Kids. It's time for the 4th annual 2020 GPKNews.com Best of GPK Awards! Winners have been selected by the editor of GPKNews.com in eight categories, (Sketch Card Rookie of the Year returns in 2020, along with the debut of WAX Blockchain Digital Set of the year). Additionally, a Reader's Choice winner was also named in each category. Readers of GPKNews were able to vote in a poll on GPKNews' Facebook page in mid-December. On some awards there is agreement, while others vary in opinion. Let the debate begin! Its time to celebrate the best in GPKs for 2020!
And the winners are…
2020 Retail GPK Set of the Year
Winner: 2020 Garbage Pail Kids Chrome OS 3
Reader's Choice: 2020 Garbage Pail Kids Chrome OS 3
As in years past, this category wasn't close in voting. Chrome won easily in a landslide. I suppose that shouldn't be a surprise. Since 2014, collectors have been begging Topps to continue the Chrome brand in GPKs. However, Topps kept refusing after poor sales of Chrome OS 2 made them hesitant to do the set again. After six years, Topps finally relented, and collectors rejoiced. Chrome OS 3 saw demand unlike any other GPK set over the last 10 years. The gamble appears to have paid off for Topps, as more chrome is planned in 2021. That doesn't mean the other retail sets were bad this year. In fact the original art and gags in retail sets in 2020 was better overall than it has been in years. However, some missteps by Topps in set structure, kept those sets from winning set of the year. Popular reprints, fantastic new original pieces, all on shiny card stock is what lead Chrome OS 3 to winning set of the year. Honorable mention: 2020S2 35th Anniversary.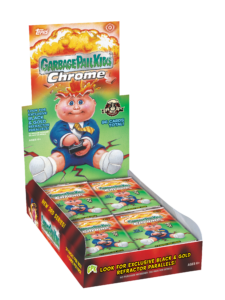 2020 Online GPK Set of the Year
Winner: Gone Exotic Sets 1-3
Reader's Choice: GPK Sapphire
This category is so hard to pick a winner. Mainly because there was so many different types of online sets offered by Topps in 2020. There were weekly series sets like Bizarre Holidays, Gone Exotic, and 2020 Was the Worst. There also were new and innovative On Demand sets like Halloween Stories and Untold Stories. Topps tried untraditional sets such as Skateboard Stickers, Gross Greetings, and GPK Kitchen. Finally, a packed out Chrome sister set, Sapphire, took the collecting world by storm at the end of the year. So how to pick a winner in this category? I went with a set that set the stage for the GPK explosion of 2020. When the pandemic took hold, nothing was bigger in pop culture as the Netflix docuseries Tiger King. It made perfect sense that Topps would work with Netflix and offer multiple GPK sets based on the show. Artist David Gross perfectly captured the characters with his gags and artwork. The first set remains the highest selling online GPK set to date. Readers may have voted for Sapphire because of its chrome goodness, but Gone Exotic gets the win for helping to jumpstart GPK in 2020. Honorable mention: GPK Sapphire, Skateboard Stickers, 35 Years of Untold Stories.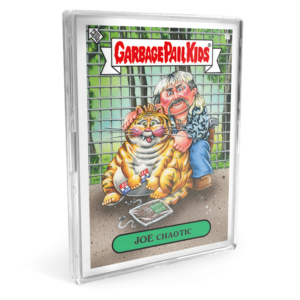 2020 WAX Blockchain Digital Set of the Year
Winner: OS 1
Reader's Choice: OS 1
2020 saw the debut of a completely new type of collectible, digital only cards on the WAX Blockchain. These NFTs saw plenty of controversy as many physical collectors have shunned the idea of collecting digital cards. Topps Digital has big plans in the coming years for not only GPKs, but many different brands to launch on WAX. They started with GPKs, and the growing pains were felt by collectors trying to figure out how to use this new technology to collect GPKs. Four sets were released throughout the year, with OS 1 being the overwhelming choice as the set of the year. Topps and WAX weren't sure what kind of demand would be there for these digital collectibles, so they went with a smaller print run to start with OS 1. WAX NFT followers and GPK collector early adopters snapped up all the packs within 24 hours. Prices on the secondary market quickly rose as collectors tried to complete sets. With a proven demand, Topps experimented with print runs on the remaining sets in 2020. While packs sold out in just mins., secondary market prices crashed due to over production and lack of demand. On boarding technology and website ease of use will have to improve in 2021 if Topps wants to lure more physical collectors to the digital world. Honorable mention: OS 2
2020 Topps GPK Licensee of the Year
Winner: GPK Nation
Reader's Choice: GPK Nation
This is another category which is impossible pick a winner. There are many different types of licensed merchandise. Perhaps the most influential licensed merchandise of the year was the RL Stine novel, Welcome to Smellville. That is the first book in a planned series by the Goosebumps author. These books may do more for the future of the GPK brand than anything else. However, this award is voted on by the core collector base, and nothing caused quite a stir in the GPK licensed space this year than GPK Nation. Also known as Collectibles Nation, the company was started this year by Louis Gregory and The Goldberg's TV show creator, Adam F. Goldberg. The company has offered a steady stream of high quality merchandise, all of it licensed by Topps and all limited in production. It's the limited nature of the collectibles and the erratic nature of the launches that saw much controversy with collectors. However, the company has learned to expand some print runs and now offers a semi-regular launch schedule. Collectors have seemed to enjoy the wide variety of merchandise being produced by the company with coins, pins, and ornaments proving to be the most popular. Not everything has been a hit, (wine topper?), but collectors still voted GPK Nation the top licensee of 2020. Honorable mention: FYE, Abrams Books, Greenlight Collectibles, USAopoly.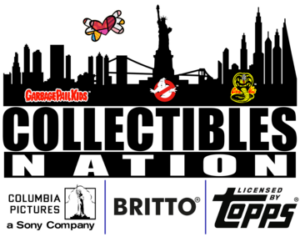 2020 GPK Rookie Sketch Artist of the Year
Winner: "GPK" Nik Castaneda
Reader's Choice: Bekki Sharp
This award took a hiatus in 2019, because Topps just didn't use many new artists. That all changed in 2020, as some veteran artists decided to take a break, Topps had to begin adding new ones. Topps chose a really good group of artists to make their GPK debuts in 2020. This category never disappoints in reader voting as there were numerous Facebook campaigns to increase vote totals. Any of the artists nominated truly could have won this award this year. The reader's favorite this year was Bekki Sharp, who does fantastic work all the way from the UK. However, GPKNews has chosen "GPK" Nik Castaneda as this year's GPK Rookie Sketch Artist of the Year.  Nik, a longtime GPK collector, started with 2020S1 Late to School, and continued to work on numerous sets throughout the year. His initial pack inserted and return sketches followed the standard GPK art style and quickly became collector favorites. Nik then begin to also draw GPK characters in his unique style. This led to Topps using his artwork in the WAX Blockchain OS 2 set, and his own online release, Gross Greetings. The future is bright for Nik and all these artists as they continue sketch work into 2021. Honorable mention: Bekki Sharp, Jeff Cox, Karl Jones, Greg "13" Trieze, Brandhen Snyder, Jeff Dionise.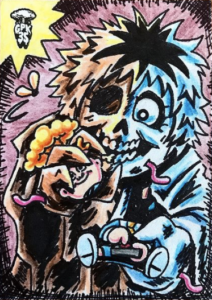 2020 Sketch Artist of the Year
Winner: Pat Chaimuang
Reader's Choice: Pat Chaimuang
This is a category that gets collectors highly emotional. Everyone has their favorite sketch artists. 20% of the votes in this category were write in votes for 17 different artists not listed! There are so many great artists doing sketch cards, how can you pick just one? While there were 59 choices in 2020, for the second year in a row the top two spots in voting came down to Pat Chaimuang and Jasmine Contois. These two artists have separated themselves as fan favorites. While Jasmine had another fantastic year, this year's Sketch Artist of the Year is Pat Chaimuang. Pat's artwork stands out in a crowded field, and sees the most demand. Collectors who can obtain a return sketch from Pat get a masterpiece. It's unbelievable Topps hasn't chosen Pat to do an online set in his style. This will be the second year in a row Pat has won the Reader's Choice portion of this award, and it appears he won't be giving up that title anytime soon. Honorable mention: Jasmine Contois, David Acevedo, Rory McQueen, Lowell Isaac.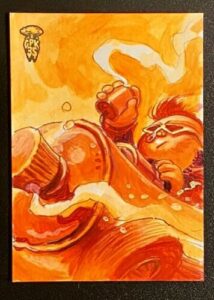 2020 GPK Artist of the Year
Winner: David Gross
Reader's Choice: Joe Simko
This was another category where collector voting was focused on two artists at the top. Since Topps has streamlined their final card artists, you can't really go wrong with any of them as all their art is fantastic. Joe Simko had the reader's vote this year. Simko's artwork is the face of GPK licensing. His characters are so smooth, he's a perennial fan favorite. However, this year's GPK Artist of the Year is David Gross. David's strongest quality has always been the gags for the cards. He had a banner year in 2020. David had top cards in every retail set, from Hot Flora Teacher in 2020S1 Late to School, to New Wave Dave in 2020S2 35th Anniversary, to Adam Burn in Chrome OS 3. He also continually has some of the top gags in online sets that not only brings the collector a chuckle, but also makes them think. He also knows how to get collectors riled up, (what, both "a" and "b" cards are named Ashley?!?). It also should be noted that David did extensive work throughout 2019 with the new GPK Brand Manager to help improve retail set content and structure. Many of the things collectors saw return to GPKs in 2020S1 can directly be attributed to his passion for the GPK brand with Topps management. Honorable mention: Joe Simko, Brent Engstrom, Smokin Joe McWilliams, Rory McQueen.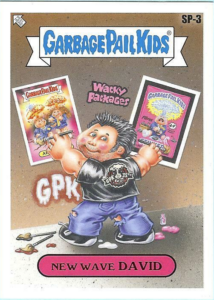 2020 GPK Card of the Year
Winner: Hopeful Harper (2020S2 35th Anniversary #32b Artist/Concept Smokin' Joe McWilliams)
Reader's Choice: T2 Tootie (Chrome OS 3 #AN8a Artist/Concept: Joe Simko)
Once again 2020 saw hundreds of choices for collectors in this category. Once again many different cards received votes. Could there really be any other choice for Card of the Year? Collector anticipation was off the charts for the return of Chrome to GPKs in 2020. Collectors waited six long years for this. The gag for the card is perfect, a collector waiting a very long time for his Chrome 3 box. It's almost as it Smokin Joe knew Topps would delay the set an additional week when he drew the card, also adding to the gag itself. It's the perfect card to represent 2020 for GPK collectors. Honorable mention: T2 Tootie, Adam Burn, Adam Bomb, Joe Chaotic, Hot Flora Teacher.