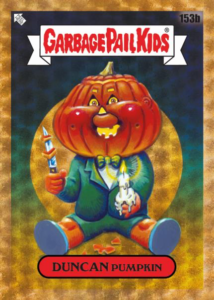 GPK Chrome collectors rejoice, we now have a release date. In today's email to distributors, Topps has given 2021 Garbage Pail Kids Chrome OS 4 a release date of 8/5/22. GPK Chrome has been listed as TBD for months after being originally scheduled for a Nov. 2021 release. The product was delayed as printer and card shortages shortages have ravaged the trading card industry.
2022S1 GPK Book Worms remains with a 7/27/22 release date on the calendar. Word begin coming down yesterday that distributors were informed of Book Worms impending release and the cancellation of Blasters. GPKNews has heard from additional sources today that have confirmed the same information being shared with them as well. It would appear collectors will be getting two sets  very close together.
Meanwhile, 2021S2 GPK Vacation remains July TBD on the calendar. GPKNews has heard from multiple sources that the set will continue to be delayed due to shortage of sticker card stock, with delays anticipated for months.
As always, collectors shouldn't trust release date updates on online sellers websites as they generally use placeholder dates until official updates from Topps are released.