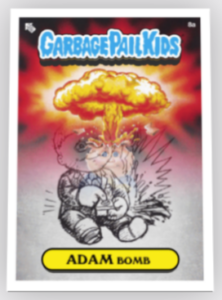 Tuesday afternoon at 12:00, WAX x Topps launched their first partnership on the WAX Blockchain by selling Series 1 Garbage Pail Kids packs. Just 28 hours later all the packs had sold out. The first set had a run of 10,000 Standard packs, and 2,000 Mega packs. The Mega packs went quickly in the first 7 hours, with the Standard packs selling out the next afternoon. Topps and WAX were very happy with the results of the initial launch. Selling out quickly was something that was in the back of the minds of Topps. VP of Topps Digital Tobin Lent told GPKNews, "We are thrilled of course. This was our first step into blockchain, so to see this type of success out-of-the gates is fantastic.  We weren't quite sure how it would go. However, many of us thought a 24 hour sellout was possible. We figured there would be demand from a wide variety of folks, from GPK fans to blockchain enthusiasts and other digital collectors. That's exactly what we saw."
WAX had similar feelings on the launch. They are also thrilled with the secondary market support the set has been receiving. Evan Vandenberg, Director of Business Development at WAX, told GPKNews, "I'd be lying if I didn't say that I was a little surprised. The response was overwhelming, especially considering the fact that these were a first-of-their-kind release and people took a few hours to figure out exactly what these blockchain-based cards were about. More surprising and important to me has been the activity on the secondary markets. We are on pace for secondary market sales to top well over $100K of transactions in the first week since launch. This shows that people genuinely value these assets and are willing to spend money to acquire cards and complete sets. Cards and sets are being sold for hundreds and in some cases thousands of dollars on the secondary markets. For me, this was the biggest win and shows that future releases will likely garner even more interest."
So, who exactly bought all these packs quickly? Based on activity on Telegram and Blockchain secondary marketplace sites, it appears the WAX community was very excited about the launch and fully supported it. While, it may take some time for longtime GPK collectors to warm to the idea of digital cards, there were also many collectors who not only bought packs, but are actively engaged in the marketplace. The secondary marketplace has taken off in the days after release. While secure sales can't happen via eBay, prices for packs and cards are still soaring. Mega packs have been selling for $100 or more. In no surprise, Adam Bomb is the most popular selling for individual cards. The rare sketch variations have been fetching right around $600, while the prisms over $100. Other sketches and prisms have also been constant sellers. There are also sales happening on secondary blockchain marketplace websites. Simple Market is one website where there are over 4000 cards listed for sale. Prices have seen similar results as ebay, although Wax tokens are needed to purchase cards.
There is not currently an integrated marketplace to buy and sell on WAX's website. The company is working on a solution. There is a steep learning curve for GPK collectors who want to buy on secondary blockchain markets. Especially if they want to acquire Wax tokens to purchase cards. Until WAX either integrates a marketplace or the third party websites make it easier to use common payment methods, it will be a barrier for regular GPK collectors to enter the market. The Wax website also has plenty of improvements that will need to be made. Although, the company is listening and changes are already happening. Better search and sorting functions for the Inventory tab were launched Thursday on the website.
Is this the future of card collecting? There's no doubt this first launch was hugely successful. Was it successful because the WAX community finally has a major player on the Blockchain? Or are there really collectors out there who are collecting the cards? There seems to be no shortage of collectors on the GPK channel in Telegram who are trying to put together base and prism sets. There are also people who are looking for deals, and trying to flip, or hold long term as an investment. Is there room for both investors and collectors? Thats probably the big question, we will see. How will pack and card sales hold up in the coming days and weeks to come? The "first" of something always seems to be more collected. Will collectors want to keep their digital assets long term? As for what's next for WAX and Topps? With a quick sellout, it's obvious there will be more GPKs in the future for the Wax Blockchain. In a tweet earlier in the week, Topps Digital teased a future Series 2 GPK set. As for what WAX is working on Vandenberg told GPKNews, "Without going into too much detail, I can tell you we are working hard on plans to release upcoming GPK sets in the not too distant future. We have a few very cool concepts in the work for the next packs, so stay tuned. As far as other Topps properties go, I will leave that officially unanswered at this time, but I can tell you we are both interested in figuring out the next IP to bring to the WAX blockchain." Meanwhile, Topps Tobin Lent told us, "We are very excited to introduce the beloved GPK brand to a new platform and new fans. We are just getting started. More to come." Looks like the digital future of card collecting has arrived.