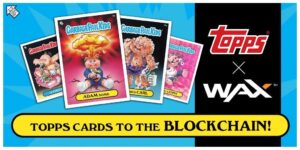 After their website was posted a bit early last week, WAX & Topps Digital officially announced today their partnership for digital trading cards. According to the press release, each Garbage Pail Kids card is a unique digital card. Collectors will be able to buy, sell, and trade these digital cards on WAX's platform. The website topps.wax.io has since added a FAQ section. The company says the cards will launch in a few weeks. Here is the press release.
THE TOPPS COMPANY PARTNERS WITH WAX TO BRING GARBAGE PAIL KIDS COLLECTIBLE CARDS TO LIFE ON THE BLOCKCHAIN
GARBAGE PAIL KIDS INVADE THE BLOCKCHAIN!
TOPPS CONTINUES ITS CELEBRATION OF THE 35TH ANNIVERSARY OF GARBAGE PAIL KIDS
March 2nd, 2020 – New York, New York Today, The Topps Company and Worldwide Asset Exchange (WAX) have announced the introduction of Garbage Pail Kids trading cards featuring blockchain technology.  This exciting partnership will feature a proprietary platform provided by WAX where collectors can buy, sell, trade and store Garbage Pail Kids digital collectibles.
Each Garbage Pail Kids card is a unique digital card.  Collectors will be able to buy, sell, trade and store their Garbage Pail Kids blockchain collections on a dedicated Topps platform which uses the WAX blockchain to authenticate each card and its content. Every Garbage Pail Kids card on the platform will retain a unique code that will ensure its authenticity.
"Over the years, collectors of Topps trading cards have enjoyed the thrill of ripping open a pack of cards.  This partnership allows us to bring that memorable collecting experience to an even wider audience.  Our Garbage Pail Kids blockchain product will highlight recent advancements in technology and continues Topps' history of developing innovative products," said Tobin Lent, Vice President, General Manager of Topps Digital.
"We are excited to work with Topps to develop a new approach for collectors to engage and interact in a digital space.  As the popularity of blockchain collectibles grows, Topps, as the leader in the space, is well-positioned to take advantage of our WAX platform features to provide a unique collecting experience," said Evan Vandenberg, Vice President of Business Development at WAX.
The new Garbage Pail Kids digital cards will launch in the next few weeks and can be purchased at topps.wax.io using credit cards or the WAX Cloud Wallet available at all-access.wax.io. Visit topps.wax.io for more information and to sign up for the latest GPK product updates.
About Topps:
Founded in 1938, The Topps Company, Inc. is the preeminent creator and brand marketer of physical and digital sports cards, entertainment cards and collectibles, and distinctive confectionery products. Topps' leading sports and entertainment products include Major League Baseball, Major League Soccer, UEFA Champions League, Bundesliga, Star Wars, WWE, UFC, Wacky Packages, Garbage Pail Kids, Mars Attacks and other trading cards, sticker album collections and collectibles. Topps' digital trading card apps portfolio, which has been a hit with millions of fans around the world, currently includes Topps® BUNT®, TOPPS® KICK®, Topps® Star Wars℠: Card Trader, Topps® WWE Slam®, Topps® NHL SKATE™, The Walking Dead: Card Trader, Marvel Collect! by Topps and Disney Collect! by Topps! Topps' confectionery brands include Ring Pop®, Push Pop®, Baby Bottle Pop®, Juicy Drop ® Pop, and Bazooka® bubble gum. Topps was acquired by Michael Eisner's Tornante Company and Madison Dearborn Partners in October 2007.  For additional information, visit Topps.com and Candymania.com.
About WAX (Worldwide Asset eXchange)
WAX is an all-in-one blockchain platform enabling developers to easily create, sell and trade digital goods to empower businesses to profit from the next era of digital commerce. For more information, please visit https://wax.io and follow along on Twitter, YouTube, and Telegram.