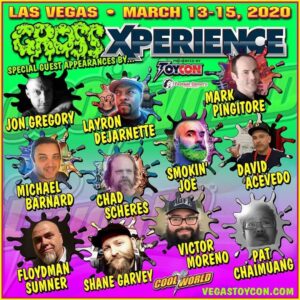 In just over two weeks the Gross Xperience is set to take on Las Vegas. The yearly convention that celebrates Garbage Pail Kids will take place March 13-15 at the Eastside Cannery Hotel and Casino. Collectors can expect to see a number of changes with this year's show. The first obvious one, the name of the show has changed to Gross Xperience. This will be the 4th annual Vegas show, formally called GPK Con and Gross Card Con. Once again, the show takes place inside a larger toy convention. This year's show is being co-promoted by Vegas ToyCon and Cool World. This marks the forth different hotel used for the show, and first time the show will be held a ways off the Vegas strip. The host hotel is sold out of rooms already, collectors still needing accommodations will need to book at another hotel and plan transportation to the venue. There are 12 current and former GPKs artists scheduled to attend this years show. Current final card artist Smokin Joe McWilliams headlines a group that also includes sketch card artists Jon Gregory, Michael Barnard, Chad Scheres, David Acevedo, Floydman Sumner, Shane Garvey, Victor Moreno, Pat Chaimuang, Jay O'Leary, and Jeff Cox. Additionally, Magic Marker Art owner and former GPK artist Mark Pingitore will also be on hand. Layron DeJarnette was originally scheduled for the show, but unfortunately will be unable to attend. Read on to learn everything you need to know about this year's show.
Events and Tickets
Collectors wanting the full experience can purchase a special GPK VIP ticket for $350. That ticket includes early entry to the show all three days, a B&W sketch, an exclusive GPK print, all special GPK show events, a Hall of Honor dinner ticker, a breakfast ticket with the GPK artists, and an exclusive backpack. A regular show VIP ticket is also available for $150. That includes early entry to the show all three days, dinner ticket to Saturday night's Hall of Honor toy dinner, event backpack, comic cover, and VIP badge. A regular admission three day pass can be purchased for $25. Individual daily entry passes are also available to purchase on their website. There will also be a handful of special GPK related events taking place during the show. It all kicks off for early arrivers at Thursday night's Gross Bowl Social. The event will be held at Sam's Town at 10:00 PM. The event, limited to 20 people, costs $20 per person and includes a 11×17 print. Friday night, from 8:00-9:00 PM, collectors can attend a UNO game at the One Six Sky Lounge, and win exclusive GPK prizes. The game is limited to 25 players, with the entry being $45 per person. There is also a GPK Designers Breakfast taking place Saturday morning from 8:00-9:00 AM in the One Six Sky Lounge. The event is only open to GPK VIP ticket holders, or collectors can purchase tickets for just the breakfast for $60. The breakfast will include an artist Q&A session, and a special event exclusive. All events are included for collectors purchasing the special GPK VIP Package.
Show Exclusive Card Set
There will once again be a special show exclusive card set being offered at the show. Clint Coleman and family will once again have his GPK & Wacky Warehouse booth setup at the show selling a number of GPK items. With Smokin Joe McWilliams doing much of the artwork and setup on the card sets, Clint will have a few show exclusive offers. This year's set will feature 15 cards with artwork from Layron Dejarnette, Smokin Joe McWilliams, Jon Gregory, Chad Scheres, Mark Pingitore, Pat Chaimuang, Floydman Sumner, David Acevedo, Shane Garvey, Michael Barnard, and Victor Moreno. There are a number of options and packages that will be available for purchase. The 15 card foil wrapped artist set with a chance at a show redemption will be available for $40. Collectors will have a 1:5 chance at pulling a redemption for a sketch, medal set, or merchandise coupon. There will also be a 15 card wax wrapped canvas set also available for $40. There are 250 artist, and 100 canvas sets that were printed. For the first time there will also be a 15 card metal card set, numbered /25, that will be offered for $50. In another first, there will be an 8 count poker chip set also being sold for $15. The poker set will be limited to 75 copies. Package deals will also be available. Collectors can purchase both the artist and canvas sets together for $70, or they can add on the poker set to the package for a total of $80. Clint will also have his popular scavenger hunt setup on Sunday!
Artists
The highlight of every show is getting to spend time with your favorite artists. There will be 12 former and current Garbage Pail Kids artists in attendance at this year's show. This is a great chance to hang out, ask questions, get autographs, and buy merchandise to help support these artists. The artists will all have many different items available, some you will only find at this show. Here is a rundown of just a few of the items you can find at the show.
GPKs sketch artist Jon Gregory will again be in attendance and have 11×17 prints of his original Howard Stern and Baby Yoga artwork. He will also have a new Wacky Package signed promo card.
GPK sketch artist Chad Scheres has attended every Vegas Con so far. He will be in attendance once again and will have a table full of items featuring his original artwork. He will have some new prints, and a large assortment of stickers for sale. He will have sketches, and some small canvas that he will be painting before the show.
Magic Marker Art owner and artist Mark Pingitore will be in attendance, and as always will be offering a lot of his very popular cards and merchandise. New for the show will be a Gross Xperience Promo Pack ($20), that will include 4 promo cards from upcoming releases, 2 exclusive prism stickers, and a 1/1 black printing plate from Marveless or Horrorible Kids. A new Horrible Kids Edgy Eddie binder ($30), and Horrible Kids skateboard decks ($60) will also be at the show. He will also have boxes, packs, and sets from Marveless Kids, Horrible Kids, ThunderBrats, and Star Warped Kids. Some Magnets and stickers will be on hand as well.
GPKs sketch artist Pat Chaimuang has quickly risen to the top of popular sketch artists. He will be attending this year's show for the first time. Pat will have some posters, postcards, some original color rough sketches, and some amazing looking hand drawn postage stamps, (actual size)!
Another popular GPK sketch artist, Floydman Sumner, will also be making his first appearance at the Vegas show. He will be debuting his brand new Rocking Dead trading card set. The set will feature sketch cards from GPK artists Chenduz, Shawn Cruz, Simone Arena, Shane Garvey, Neil Camera, Lily Mercado, Jeff Zapata and more.
Once again, Michael Barnard is serving as the show artist for the Vegas show. Michael did all the art for the ToyCon, from t-shirts, packaging, backdrops, web graphics, and displays. There will be a 20 foot gallery displaying Michael's work at the show. Michael did a special comic book cover, that will be given to the first entries to the show each day. He will also have his usual booth at the show filled with his original artwork, 11×17 prints, sketch cards, custom matchbook sketches, and more. He will also have his highly sought after GPK Bucks and some new GPK themed mini-golf discs available for purchase. Some popular items from previous shows like the Eye Roller diecast car, GPK Bucks Mugs, and his 12 card set.
GPK Sketch artist David Acevedo will be attending his second straight Vegas show. He will have some Toycon sketches available at the show for purchase. He will also be taking commissions on both official GPK sketch blanks, and Toycon blanks. He has a limited number of comic covers also available for commission. He will be debuting his original 5×7 prints of EZ Bake Kate/Cookin Kelly. They will be limited to /25 a/b sets made.
GPK sketch artist Victor Moreno will be attending his second Vegas show. He will have an exclusive 5 card set available at the show. He will also have some large 11×17 prints, and sketch covers available.
GPK sketch artist Jay O'Leary will be attending his second Vegas show and has some big things in store! While pre-orders are selling fast, he will have some of the cards he created for GeePeeKay.com available for sale. The Vegas cards were foil pressed on the back and numbered /40. Jay will also be debuting his new card set To, Two, Too Soon Toons. Jay, along with artists Shane Garvey, Barry Nygma, Jeff Cox, and Brandhen Snyder have combined on a new series featuring adult gags. They will have their first 100 card run foil stamped and numbered /100 available at the show. After there will be an open print run with sketches, metal, and other rare cards inserted in. Each artist involved in the set will have 10 exclusive packs also available with their names foil pressed. Exclusive packs will be available for $15, while open edition packs for $10.
Jeff Cox may be one of the newer GPKs sketch artists, but he has done work on Star Wars sets as well as other companies. He will be attending his first Vegas show and sharing a booth with Jay O'Leary. In addition to the To, Two, Too Soon Toons packs, he will have some of his personal sketches, larger original work signed by actors, some prints, and 1″ handmade GPK buttons. He will also be doing sketches at his booth.
While Matt won't be in attendance, the presence of GeePeeKay.com will be felt across the show. Matt, in addition with many talented artists has created his own characters, and has sold cards and merchandise for these on his popular website over the last year. At this year's Vegas show, three artists will have some new items available.
Mark Pingitore will have 25 artist autograph cards (numbered to 50) featuring his Geep character available for sale. There will be a limited edition set that contains the remaining 25 autos in the geepeekay.com store after the show.
Shane Garvey will have 25 artist autograph cards (numbered to 50) featuring his Grodee character. There will be a limited edition set that contains the remaining 25 autos in the geepeekay.com store after the show. Shane will also have a limited number of Keepers and Jumbo Keepers sets available at the show.
Jay O'Leary will have a stamped and limited to /40 of his new creating for GeePeeKay. He will also have a very limited number of 4 card non-stamped, and jumbo non-stamp cards at the show. There will be a limited edition set containing the Jumbo card and 4 card set available in the geepeekay.com store after the show.
Artists Smokin Joe McWilliams, and Shane Garvey will also be at the show selling their art.
This year's Gross Experience will be open on Friday March 13 from 4:00 – 9:00 PM, Saturday March 14 from 10:00 AM – 5:00 PM, and Sunday March 15 from 10:00 AM – 5:00 PM. This show promises to be another fun filled weekend for GPK collectors. This is your chance to meet some of your favorite GPKs artists, meet collectors from around the world, and be immersed in everything GPK!