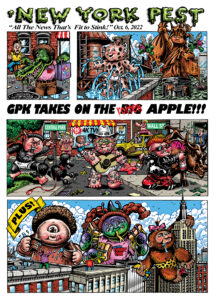 This year's New York Comic Con is upon us. The show is set to take place this Thursday (10/6) – Sunday (10/9) at the Jarvis Center in New York City. Topps will again have a big presence at the show. This year's show may have more Garbage Pail Kids cards and merchandise than any show in history. Topps has really gone all out with the GPK! Read below to find out everything that has been announced for the show so far.
Topps GPK Trading Card Giveaway
Topps is duplicating the 9-card puzzle scavenger hunt they first did at this past year's San Diego Comic Con. There will be 9 different cards at nine booths across the show for collectors to collect. Collectors can put the 9 cards together to reveal artwork with GPK's taking over NYC. Once again artist Chris Meeks did the art for the puzzle, with his wife, Sandy Meeks, assisting on the coloring. Each booth will have a limited number of cards available each morning of the show. Collectors will want to be quick, as these went fast at SDCC.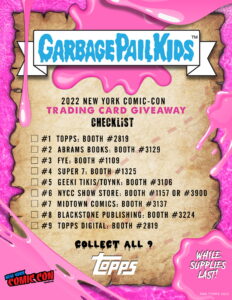 NYCC Oh the Horror-ible Set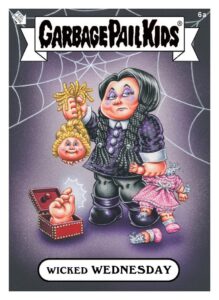 Artists David Gross and Brent Engstrom have
done the artwork for the latest Garbage Pail Kids Oh the Horror-ible expansion set. The set features characters that have appeared in 2002 horror film/shows. (Check out that B&W GPK banner and nameplate!) The 10 card set will be sold both at the Topps booth (#2819), and online at Topps.com beginning Thursday. Collectors purchasing the set at the show will get the show exclusive 6a & 6b (Wicked Wednesday/Addy Addams) cards.
Adam Bomb Mis-Fortune-Telling Machine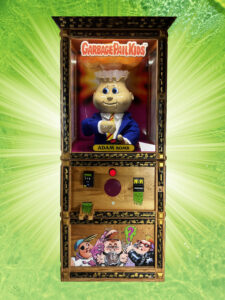 Step right up and have Adam Bomb tell you your mis-fortune! Topps will be debuting at their booth, (#2819), the Adam Bomb Mis-Fortune-Telling Machine. This custom machine was built by the same company the built the popular Zoltar fortune telling machines seen in arcades and amusement parks. The 3D Adam Bomb has lights, sound effects, voice track, and pulsating mushroom cloud. After getting their misfortune told, collectors will receive an exclusive GPK card. Artist Neil Camera did the artwork on the 10 different cards that collectors can receive. Topps has not yet revealed pictures of the cards or pricing per misfortune. They did say credit cards will be accepted.
Meet & Greets, Autos, Promo Cards
What's a Con without meeting your favorite artists?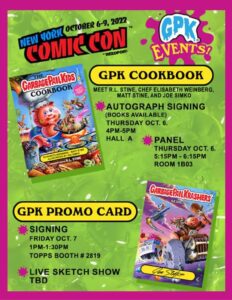 Joe Simko has two different signings planned for the con. On Thursday Simko will be part of the Abrams Book Panel and Signing. Authors RL Stine (GPK novels), Liz Weinberg and Matt Stine (GPK Cookbook), and Simko will appear at a session titled GPK: A Gross Out Update, in room 1B03 from 5:15-6:15. A book signing will precede the panel from 4:00-5:00 in Hall A. Autographs will be free, and GPK books will be available for purchase from Barnes & Noble.
On Friday Simko will be at the Topps booth (#2819) from 1:00-1:30 signing a GPK Krashers Promo card.
David Gross will be at the Topps booth (#2819) on Sunday from 1:00-1:30 signing a GPK We Hate the 80's promo card.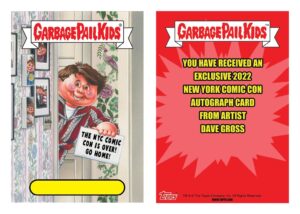 Saturday, artist Neil Camera will be at the show throughout the day. Camera is scheduled for two different signings on Saturday. Times, locations, and items being signed have not been revealed yet by Topps or the artist.
Adam F. Goldberg, the creator of ABC's The Goldberg's, and Hans Rodionoff will appear at the Midtown Comic's booth (#3137). The pair are co-writers on the new GPK Origins comic series. They will be signing copies of Issue #1 on Sunday at 3:00 PM.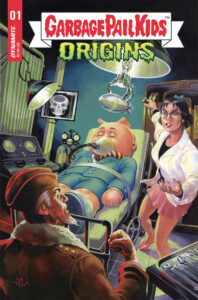 Author RL Stine will be appearing at the Blackstone Publishing booth (#3224) on Thursday from 1:30-2:30 signing Garbage Pail Kids: Welcome to Smellville posters.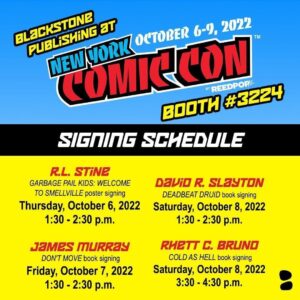 Grossest Sketch Competition
Artists David Gross, Neil Camera, and Joe Simko will all be partaking in Topps Grossest Sketch Competition. Collectors can vote each day, tournament style for what sketch card the artists should draw live! Voting begins tonight on Topps social channels, and live sketch times are TBD, check Topps booth (#2819) for info.
GPK Simko Print & T-shirt
Joe Simko also created a black light silkscreen print with a GPK NYCC theme. The 18" x 24" prints are limited to 250, and will be available to purchase at the official NYCC booths (#1157 & #3900). A t-shirt featuring the same artwork will also be available at the same booths.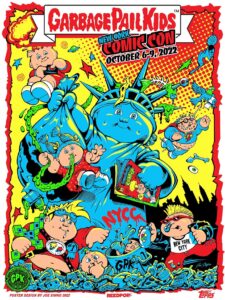 Meet Adam Bomb
Thats right, on Friday and Saturday at the Topps booth (#2819), collectors can meet and take pictures with Adam Bomb himself! Appearance times are not available yet for Adam Bomb.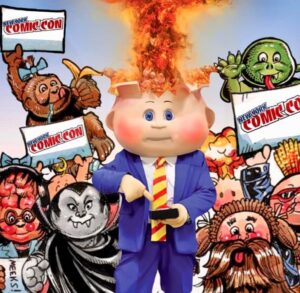 And more….
There are rumors of contests at Topps booth throughout the show. There may also be a couple of other surprises. Collectors attending the show will have a full weekend of GPK waiting for them.