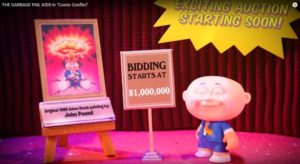 According to an article published yesterday in ICV2.com, Topps is planning a huge push next year for Garbage Pail Kids and their 35th anniversary. Topps has big plans with both licensees and promotions.
New licensees will include USAopoly, they will produce a GPK themed Monopoly board game. Abrams book publisher will be back, this time with middle-school themed books. Previously announced companies Chalkline and Just Funky will join a new name, Surreal Entertainment, in producing licensed merchandise. The previous licensees; Geeki Tikis, Super 7, Ripple Junction, Mondo, FYE Consumables, Creepy Co., Fright Rags, are also mentioned as coming out with new items in 2020.
For the first time in years, Topps will actually put some marketing power behind the brand. According to the article Topps will be sending GPK characters to trade shows and comic conventions next year. The article also mentioned they will be showcasing the art and the artists at those shows. Also Topps is planning on launching dedicated social media channels, and a new website.
Finally mentioned in the article, and confirmed by Jam Studios, Topps has agreed to partner with Jam Studios to being a "whole batch" of new animated GPK shorts. Strangely, there was no mention os plans for the actual card sets in 2020. Buckle in, next year is going to be busy…