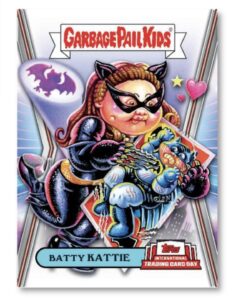 This Saturday, 8/5, is the annual tradition, 2023 Topps International Trading Card Day. Collectors visiting participating card shops are able to get a free 5-card pack of Garbage Pail Kids cards. Collectors can also choose from Baseball, UEFA Soccer, Formula 1, Bowman U Football, or Athlete's Unlimited.
Topps has released the checklist, and once again there is a full 30 card GPK checklist, along with random artist autographs. The checklist begins with five brand new trading card related themes. The artwork is done by David Gross, Joe Simko, Brent Engstrom, and Joe McWilliams. There are then 10 OS reprints, followed by 15 reprints from 2023S1. All artwork is on the Trading Card Day borders. There are also 10 randomly inserted artist autographs from 2023S1. Topps used left over stickers autos from last year's set for the autos.
To find the participating hobby store in your area go to the Topps Ripped page for ITCD and scroll to the bottom of the page, enter your address and you can see the stores in your area. For the full ITCD checklist you can click here, otherwise see below for just the GPK portion.
GPK BASE CARDS
1 Batty KATTIE
2 MICKEY MUCUS
3 PETE S.A. 1
4 TINTIN TEN
5 TRAYDEN CARD
GPK OS1 BASE CARDS
GPKOS2-1 SY CLOPS
GPKOS2-2 LEAKY LINDSAY
GPKOS2-3 RAPPIN' RON
GPKOS2-4 DISGUSTIN' JUSTIN
GPKOS2-5 DOUBLE HEATHER
GPKOS2-6 JOLTED JOEL
GPKOS2-7 FRYIN' RYAN
GPKOS2-8 CRACKED JACK
GPKOS2-9 SPACEY STACY
GPKOS2-10 OLIVER TWISTED
2023 GPK S1 BASE CARDS
GPK23-1 SUITCASE CHASE
GPK23-2 LIGHTER THAN AARON
GPK23-3 POOL PAUL
GPK23-4 THELMA THEME PARK
GPK23-5 CARA CAROUSEL
GPK23-6 BILLIE BIDET
GPK23-7 WILL YOU SHUT UP!
GPK23-8 ARI BNB
GPK23-9 BURIED BARRY
GPK23-10 TYLER TANIC
GPK23-11 BRAIN LES
GPK23-12 COLE FAITHFUL
GPK23-13 CONCH SHELLY
GPK23-14 ANGELA A-ROMA
GPK23-15 BEN SNORKELING
GPK ARTIST AUTOGRAPH CARDS
GPKA-AA ANGELA A-ROMA
GPKA-BD BILLIE BIDET
GPKA-BS BEN SNORKELING
GPKA-CC CARA CAROUSEL
GPKA-CS CONCH SHELLY
GPKA-LA LIGHTER THAN AARON
GPKA-PP POOL PAUL
GPKA-SC SUITCASE CHASE
GPKA-TTP THELMA THEME PARK
GPKA-WYSU WILL YOU SHUT UP!