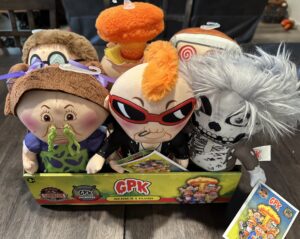 Since Garbage Pail Kids debuted they have been featured on just about every type of merchandise item imaginable. However, the history of the GPK brand with plush toys has been sparse. Five years ago, the first GPK plushes were the oddly square Kawaii Cubes that were offered very briefly before the company went out of business. Now License 2 Play Toys is offering two new lines of GPK plush toys, called GPK Phlushers. The company was nice enough to send GPKNews some samples to check out and even give away! Details on the contests are below!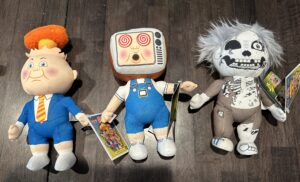 The Core Series 1 GPK Phlushers are a group of 8 inch plush toys based on six of the most popular GPK figures. Each case contains Adam Bomb, Dead Ted, Leaky Lindsay, New Wave Dave, Tee-Ver Stevie, and Nat Nerd. Each figure is tagged with a card sized tag showing all the characters to collect.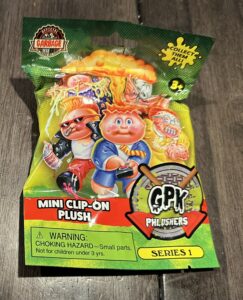 Their second product being offered are the GPK Phlusher Series 1 Mini Blind Bag Clip-On Plush. There are 12 different 3.5 inch mini plushes to collect. Each plush has a bag clip to attach your favorites onto a backpack. The characters appear in three different rarities; Common (Adam Bomb, Starin Darren, Sy Clops, Eerie Eric, Nasty Nick, and Spilt Kit), Uncommon (Mad Mike, Leaky Lindsay, Tee-Vee Stevie, New Wave Dave, and Weird Wendy), and Rare (Dead Ted). Each case contains 18 blind bags. Each pack also comes with a paper foldout showing all the characters in the series. The case I busted contained an entire set, and doubles of the common characters.
The core GPK Phlushers are available  individually for $14.99-$19.99. They can also be purchased by the case. They are available now to order at Entertainment Earth, Big Bad Toy Store, and coming soon to Amazon. The toys will also be sold in select stores in 2023. The GPK Phlushers Mini Blind Bag Clip-Ons are available individually for $5.99-$6.99. Cases are available to order now at Entertainment Earth, Big Bad Toy Store, and soon to Amazon. These will also be available in select stores in 2023.
How would you like to win these brand new Phlushers? Courtesy of License 2 Play Toys and GPKNews, we are giving away a full case of each the core Phlushers and the Mini Blind Bags!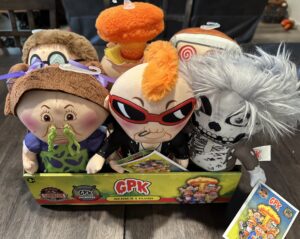 Head over to the GPKNews Instagram page to find the instructions and to enter the contest to win all six of the GPK Core Phlushers!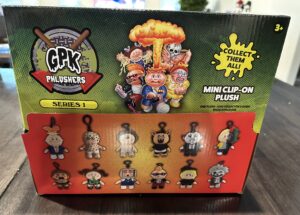 Then head over to the GPKNews Facebook page for the instructions and to enter the contest to win a 18-pack box of the GPK Phlushers Mini Blind Bag Clip-On Plushes!