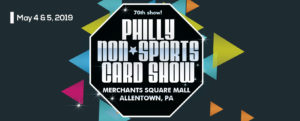 Show promoters are putting the final touches on next weekend's Philly Non-Sports Card Show. The bi-annual show is the largest non-sports card show in the country. Just like last October's show, the focus once again is on Garbage Pail Kids and Wacky Packages. Not only will collectors have a stellar lineup of artists, but there are also a number of exclusive promos cards available at the show.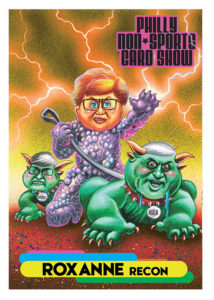 Collectors will be able to meet many of their favorite Topps artists at the show. Original Series GPK artists Tom Bunk and James Warhola headline a fantastic group of artists. Also attending Neal Camera, Fred Wheaton, Jeff Zapata, Mark Pingitore, and Vincenzo "Chenduz" d'Ippolito. Chenduz will be making his first appearance on the East Coast, traveling all the way from the Netherlands. Also, recently announced GPK sketch artist Lily Mercado will be making an appearance at her brother Jeff Zapata's booth on Sunday at the show. This group has a few artist making their Philly debuts, so be sure to get out and meet your favorites!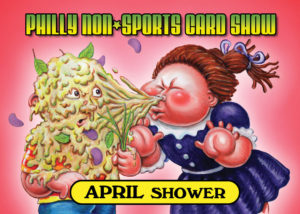 Collectors coming through the doors will have different promos available to them on each day of the show. Collectors attending Saturday will receive a GPK inspired card from Neal Camera, 1a April Showers. Those attending on Sunday can get the 1b version of the Camera card, named May Allergy. Collectors on Sunday will also receive the Del Monkey Wacky inspired card also painted by Camera. All show attendees will also receive the 1b version of last show's Toser the Destroyer card. The Brent Engstrom painted card is titled Roxanne Recon and features a slightly different background from the first version. Fans of Mark Pingitore's Horrible Kids card will also receive a new promo card for the next Horrible Kids set.
Those attending the sold out Saturday night dinner will be in for some surprises as well. Show promoters haven't revealed everything in store as of yet. However, guests attending the dinner will receive the next two official Topps promo cards, #3 & #4, in the Philly Non-Sport set. These two cards, one GPK and one Wacky, were painted by Layron DeJarnette and Chenduz and feature a spring theme this time. Dinner attendees will also receive a special card painted by Tom Bunk.
There will be other promo cards collectors can get their hands on as well. Cryptozoic will have a CZX outlander promo giveaway available at their booth for collectors breaking a box. George Wright will have a Galactic Groceries card for collectors. There will be a Fearsome Weirdos card from Robert Jimenez available. Collectors can also get their hands on a promo card from the Steven Universe set. Also the usual three Philly Non-Sport cards in their long running promos set will be given out as well. There is something for everyone.
Collectors in the area next weekend should take some time and check out the show. The show takes place at the Market Square Mall in Allentown, PA. Show tickets are available for $8 per day, or a two day pass for $14. The show will be open from 10:00 AM – 5:00 PM Saturday 5/4, and 10:00 AM – 3:00 PM Sunday 5/5. For more information on the show check out their website. Here are pictures of some of the cards available this weekend.