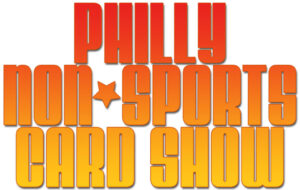 The twice a year Philly Non-Sports Card show is back to their regular schedule. The show returned last October after a two year delay due to Covid restrictions. Now the regular May show schedule and guests are set. The show will once again be held at The Greater Philadelphia Expo Center in Oaks, PA. At this time there are no Covid restrictions for entering the show.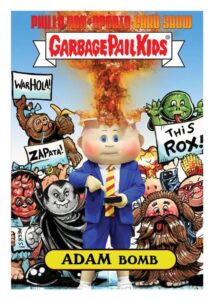 Garbage Pail Kids collectors will recognize many of the faces at this year's show. OS artist James Warhola, former art director and GPK artist Jeff Zapata, and current artist Chris Meeks will all be featured artists at the show. Artist Ingrid Hardy will also be a featured artist. Former GPK artist Mark Pingitore will have a booth to support his Magic Marker Art company. Adam Bomb himself will be making an appearance both days of the show. There will be a special licensed card passed out in his honor at the show. The "a" version will be passed out Saturday, while the "b" version will be passed out Sunday.
There will be a Saturday night dinner hosted by Sidekick at the Hilton Garden Inn. Cost is $27 per person, anyone interested in a ticket should contact Roxanne Toser. The deadline for hotel reservations for the show hotel is 4/27. Early risers on Sunday will also have the chance to attend the artist card talk session. Admission for the show is $10 per day, or $15 for a two day pass. The show will be open Saturday May 21 from 10:00 AM-5:00 PM and Sunday May 22 from 10:00 AM-3:00 PM. Collectors will not want to miss this show!