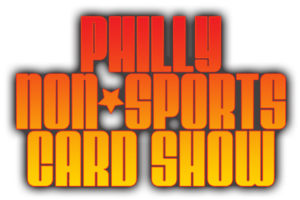 COVID-19 wasn't able to stop Topps news from coming out at the Philly Non-Sports card show. The show is being held virtually this weekend. Today's first virtual card talk session featured Topps Ira Friedman and Jessica Kanzer. The call was hosted by show promoter Harris Tosar.
Topps VP of licensing Ira Friedman took the first half of the call to go over all the various licensing efforts Topps is working on for Garbage Pail Kids. Ira told collectors Topps is focused on making GPK a global brand. He first reviewed a number of products that are for the core GPK collector. USAopoly is planning to release two new puzzles in 2021, plus a new unannounced product. There will be 3 new Geekitikis in the second series coming in Nov. Funko will release new POPs in early 2021. Greenlight will have the already announced 3rd series of die-cast cars in 2021. Ira showed off the GPK playing card deck during the talk. He said they would be sold at both FYE and ToyNK. He also showed the recent playing card coins from GPKNation, and talked about their weekly limited releases. He also had the Super7 reaction figure of Adam Bomb, and said he hoped it would lead to more figures.
Next Ira spoke of products that were focused on a broader audience. He mentioned the continued FYE consumables they continue to come out with. The Wal-Mart GPK advent calendar was shown. Ira said the calendar will be sold in 900 stores nationwide. He then talked about trying to being GPKs to kids. Part of that will include two more announcements with toy companies coming in 2021, that will focus on products to bring kids into the hobby. Finally, in some big news, Ira said they are working on various video game initiatives, and there will be some announcements in 2021.
Ira then went on to talk about the various partnerships they are working on. He said there would be a new partnership announcement in Dec. for 2021. He then talked about the success of the RL Stine book, and being #7 on this weeks NY Times kids best seller list. He showed off the audio version of the book, featured on 6 CDs. He mentioned there will be more books on the way from RL Stine. Finally he said their stop motion partnership with Jam Roll Studios is continuing. There is an upcoming much longer 3 part videos series coming out soon from the company. The first part 3 1/2 min video will debut this December. Part 2 will come in the first quarter of 2021, with part 3 in the 2nd quarter.
Finally Ira talked about global expansion. He said various GPK products would be offered in other countries that have supported GPK. He also mentioned in 2021 they are working on new card sets for other countries featuring not only existing, but new artwork as well.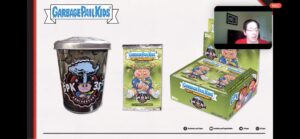 Next to speak was Topps Entertainment Brand Manager Jessica Kanzer. Jessica started by giving an overview of the upcoming 35th anniversary set. Jessica showed a picture of the Garbage Can Tin that will be the box on the Collector boxes. She mentioned there are two versions, one will be limited. Next she talked about the Chrome OS 3 set. In addition to the OS 3 base cards, there are nine new pieces that were created for the set. She said Tom Bunk signed a number of cards for the set, but they were not able to get John Pound to sign autos this time. She mentioned she is also excited for the 2021S1 Food Fight release, and work is starting for the second half releases in 2021.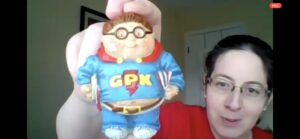 Jessica also talked about some upcoming releases for topps.com. The second series of Trashy Treasures will be coming in Nov. She showed off one of the figures, Nat Nerd. She said there will be a Halloween themed release on 10/22, with two additional holiday themed releases planned for the rest of the year. She also said the weekly GPK card sets would continue in 2021 with a different theme.
Topps doesn't speak often on GPK so this was incredible insight being shared with collectors. Hats off to the Philly Non-Sport promoters for putting the talk together. The show has 6 more various non-sport related talks scheduled through the weekend.