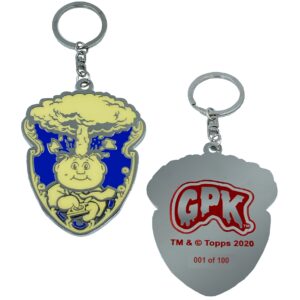 GPKNation has set their launch lineup for this week. Tomorrow, Tues. 10/20 @ 1:00 PM EST, will see the launch of the next keychain. The Blue Adam Bomb Ornament Keychain is the third different keychain so far after red and black. The keychain will be limited to 100 copies made, and collectors can purchase 2 per order.
This Friday, GPKNation will be retiring their initial coins with the launch of coin #3. There will be 100 copies of the coin available in Nickel Plated White, Sterling Silver, and Artist Proof. There will also be 5 each of the coins in red, blue, green, purple, orange, and yellow. The coins will launch at 1:00 PM EST this Friday, 10/16. Collectors can enter their order number on the GPKNation Facebook page to win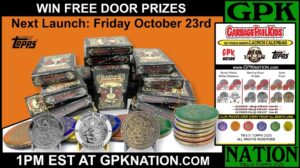 GPKNation was one of the companies highlighted by Topps Licensing VP Ira Friedman on last week's Philly Non-Sports Topps Virtual Chat. Now the Chief Operating Officer of GPK Nation, Louis Gregory; publicly known as "Uncle Louie" who also co-stars on ABC's hit show The Goldbergs has shared with us that he has finished a new book and last year's "Topps Sketch Artist of the Year" Jasmine Contois is hard at work illustrating it as we speak. Be sure to follow the GPKNation Facebook page for more updates.