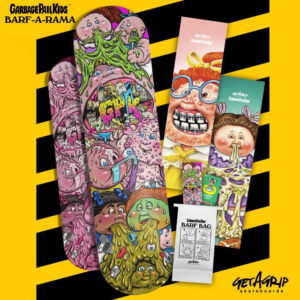 GetAGrip Skateboards is back with all the body fluids you can handle. They are set to launch their newest Garbage Pail Kids skateboard deck, Character Deck 4: Barf-A-Rama. The new deck features the artwork of Rory McQueen. Each deck will come with a triptych card featuring the same deck artwork, one random character grip tape, and an exclusive barf bag. The decks will be hand numbered and limited to 200 copies. The decks can be purchased starting tomorrow, 5/13/22, at 1:00 PM EST at GetAGrip's website. Here is the information from the company on the new deck.
Featuring the disgustingly brilliant art of Rory McQueen, we are thrilled to bring you our fourth installment from the Character Deck Collection. Our grossest drop yet and before we get cancelled – yes it's: Character Deck 4: BARF-A-RAMA!
Rory couldn't squeeze any more filth and puke into this Officially Licensed GPK Deck release. To say we're excited about this one would be the understatement of the year. This bundle features only the second ever Trippy Triptych. A printed tri-fold Collector Card (each one hand numbered and signed by the man himself).
* EVERY bundle includes official color Ltd/200 artist signed Trippy Triptych
* Bundle includes 1x Character Deck, 1x exclusive random design grip tape PLUS BARF-A-RAMA exclusive Barf bag
* Limited Edition of 200 decks
* Hand-numbered sticker of authenticity – number matches Triptych
* Shape: Popsicle 8.25"
* Deck Construction: Traditional, Canadian 7-ply Maple
* Random stain color on the top of the decks
* Comes with Exclusive Adam Bomb Printed Poly Bag
* Exclusive chase deck (Ltd/8) PLUS ONE GOLD CARD!
* ALL DECKS IN HAND AND SHIPPING THIS MONTH