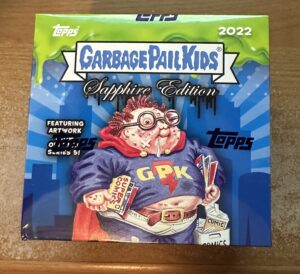 Sapphire has become very popular in GPK collecting circles. Today's release of 2022 Garbage Pail Kids Sapphire was a highlight for many collectors, and remains available to purchase from Topps website. Thanks to Fanatics/Topps, GPKNews was provided two boxes to bust live for collectors. Be sure to checkout the GPKNews Facebook page for the video of the box break! We now have the odds that are printed on the box for each parallel type:
Black 1:14
Yellow 1:18
Fuchsia 1:23
Green 1:34
Orange 1:68
Aqua 1:85
Gold 1:113
Purple 1:169
Red 1:337
Padparadscha 1:1,664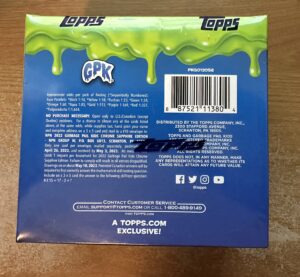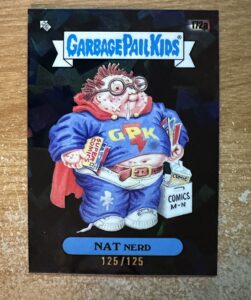 As with S2 Sapphire, the odds don't come out exact for each parallel. Based strictly on the odds, there are anywhere between 20,800 (Pad) and 22,275 (Yellow) boxes made for this release. Most of the parallels math out to right around 21,250 boxes, which would be 2 hits per box. This puts the box production right around the same as S2 Sapphire. However, because of the smaller set size, base card production is increased. There are right around 6,375 of each base card in 2022 Sapphire. Check out the chart below for a comparison of the Sapphire series.
Sapphire Box Production
S1 Sapphire – 16,600 boxes
S2 Sapphire – 22,000 boxes
S3 Sapphire – 21,250 boxes