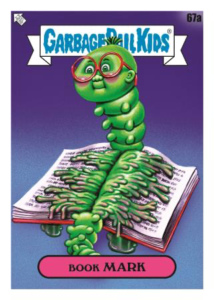 GPK collectors might have some hope a retail set will be releasing soon! At least one retail distributor was told today from Topps upcoming shipping plans for 2022 Series 1 Garbage Pail Kids Book Worms. Topps is planning on releasing Book Worms first. However, the popular Value Boxes (Blasters) are being cancelled. Topps told the distributor this was due to lack of available sticker stock. GPKNews had heard a few weeks back Topps was having trouble getting sticker card stock to print GPK sets. They will still be shipping the 24 pack Retail Display Boxes. There is no update on the planned Wal-Mart exclusive Mega Boxes. The distributor told GPKNews that orders for display boxes could not be increased, only original allocations would be honored. The distributor was told shipping from Topps would occur in the next 10-15 days. GPKNews does not have an update on Collector boxes as we have not heard any updates from Hobby Distributors.
Word of cancelling of Blasters is not surprising, as shortly after sketch artists received sketch blanks from Topps for Book Worms they were told to not sketch the panoramic or loaded puzzle sketch cards. Both those types are found exclusively in Blasters.
There is no update yet on what will happen to the GPK Gets Graphic Insert cards or Yellow parallels that are usually exclusive to Blasters.  There are also no official release date updates from Topps yet. GPKNews has reached out to Topps for official comment, but has not heard back. As for 2021S2 Vacation, GPKNews also asked Topps for a status of that set. GPKNews continues to hear that work continues on the Vacation set. More than likely Topps had a contract with Walmart for the exclusive Mega Boxes that they had to meet, which would explain Book Worms releasing first.
Oh yeah, the distributor was also told Topps is trying to get 2021 Chrome Blasters shipped by mid-July. More info as we get it!