Interview is republished, by permission, from Sybil Ferro and the Garbage Pail Kids Misfits Facebook group, © 2020.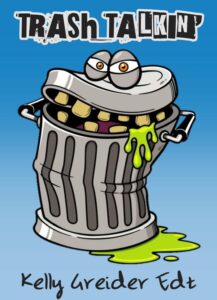 Wait…what was that sound? Shhhh can you hear it? It's the sound of anticipation, expectation, delectation and exhilaration – oh yes… it's time! More important than water, tastier than taste buds and juicier than a freshly squeezed puss bubble… it's Trash Talk!
And this week it is our absolute pleasure to welcome Kelly Greider!!!!!!!
Slippa Chervascus – Kelly, what was the defining moment that made you want to be part of GPK/Topps?
Kelly Greider – Probably when they offered me a job, haha. What got me back into collecting GPK and focusing more on sketch card work was a perfect storm of dating a woman who was a big GPK collector, peer pressure from friends, and the release of the Calvin America/Steve Rotters sticker in BNS1.
SC – Tell us about your earliest experience with garbage pail kids? Do you remember your first pack? Where you were…who you were with?
KG – My first pack was an OS4 pack from the Osco in Mishawaka, Indiana bought after my kindergarten teacher banned them from class, thus ensuring every kid HAD to show up the next day with some.
SC – What are your hobbies outside of GPK??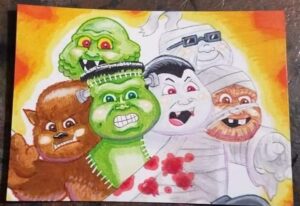 KG – Now that I think about it, I have generally the same hobbies as I did when I was 10. Art is always going to be #1. As far as trading cards, I'm also a big collector of Mars Attacks, Marvel and Carolina Panthers cards. I have a massive collection of Lego, every so often I like to freeform build just to see what comes together. I'm also pretty big into tabletop gaming, primarily D&D because it's such a great creative outlet.
SC – What/who has inspired you to be an artist?
KG – I'll do this one in a Top 3 format:
1. My mom. It's almost like artistic ability is inherited genetically and passed down from the first born in each generation, it's weird. Check out @dawns_wood_earrings and @dawns_sweet_treats on Instagram.
2. Aaron Warner has been a huge influence on my work and sort of mentor when I was younger. Used to collect the Friday Magazine insert from the Kalamazoo Gazette to save his Adventures Of Aaron strips. Check out his work at https://www.cartoonstudios.com
3. Spite. I can do all things through spite, which strengthens me.
SC – What's your art corner like? Would you dare to share a photo of it? Do you have a ritual before/while sketching?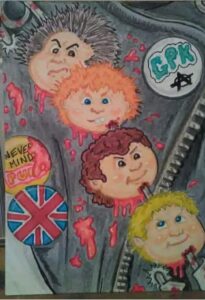 KG – Oh jeez it's a disaster area with the loosest sense of organized chaos, so no photos. Like Lenny from The Simpsons, please don't tell anyone how I live. I don't have any drawing rituals necessarily but every so often I'll make a Spotify playlist specifically as a soundtrack to a piece I'm working on.
SC – Ok, imagine the scene. You are the Casting Director for the new GPK remake movie. Spielberg and Nolan are looking to you for advice. Which 3 Garbage Pail Kids should be in it and which 3 actors/actresses should portray them?
KG – I'm gonna run with the assumption it'd be an animated film and just cast voice actors:
-Tara Strong as Messy Tessy, because she's the voice of every female lead for a reason.
-Peter Dinklage as Brainy Brian, honestly he's a holdover from attempting to cast this as a live action movie.
-Will Ferrell as Adam Bomb…do you know Will Ferrell?
SC – You have done sketches for multiple sets now, what was it like the first time someone pulled and posted one of your sketches?
KG – I honestly don't recall the first, it was probably on eBay, I'm kinda shameless about searching the auctions for my name to see what's been pulled and jow the Kelly Greider market is doing haha.
SC – If you could do a tripitch piece along with two other artists (doesn't have to be GPK) who would it be and why?
KG – I'll go with a GPK artist and a non-GPK artist. Chad Scheres for sure, love his work and we always seemed to get paired up when Topps still did the dual artist pano cards. And of course the aforementioned Aaron Warner, working on a piece with him would be a dream come true.
SC – Kelly, you're about to be stranded on a deserted island, you can bring one item and one Garbage Pail Kid with you… tell us what what and who you're taking?
KG – A boat and a ragged old Adam Bomb card to act as my Wilson, maybe scream the "Hark, Triton!" bit from The Lighthouse at it.
SC – What is GPK missing right now?
KG – I'd like to see the comics and flipbooks return to the card backs, also the gimmicky lower level chase cards especially Loco-Motion.
SC – What is some advice you can offer new artists wanting to draw GPK or who have just started drawing GPK?
KG – Get an old Cabbage Patch Doll to use for a visual reference. Keep sharing to the groups and hitting up Topps with your work.
SC – Imagine yourself doing art in 2030.. how far do you see yourself going?
KG – I see myself going til the day I die like a lot of the old Marvel greats, which given current events may well be before 2030.
SC – And now the big one! The battle to end all battles. The fight to end all fights! The skirmish to end all skirmish-ish-es?!? Sorry… Jelly Kelly Vs Smelly Kelly?
KG – Jelly Kelly, the fact they made Smelly Kelly a fleshy color instead of red has always given that one a creepy dong vibe about it.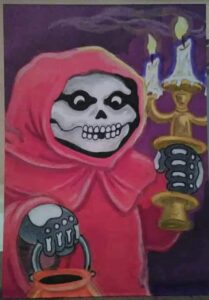 Interview was conducted by longtime GPK collectors Sybil Ferro, Will Marston, Slippa Chervascus, Roddy Francisco Fell, and Alicia Forrest in Sept. 2020, and originally appeared on the Garbage Pail Kids Misfits Facebook group. Sybil can be contacted here.