Ira Friedman's over 33 year career at Topps is coming to an end. In a farewell letter to fans, Friedman announced today his final day with Topps will be 7/31. Ira has been the Vice President of Licensing for a number of years for the company. His leadership over Garbage Pail Kids licensing has been one of the key reasons the brand has flourished over the past few years.
Below you will find his final farewell to not only Garbage Pail Kids but collectors as well. I can tell you from my personal experience, there has not been a bigger supporter of GPKs at Topps the past few years as I've ran this website. Ira always had collectors in mind while working there. That seems to be a rare quality these days. The brand won't be the same without him. Thank you Ira!
It's All About Fans First!
by Ira Friedman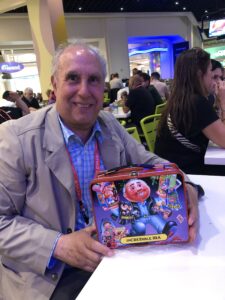 Ever since my first publishing gig at STARLOG and FANGORIA sci-fi and horror magazines in the late '70's, it's always been about the fans. In 1980, when I worked atLucasfilm Ltd., I saw firsthand how much care and attention George Lucas placed on fostering an authentic connection with Star Wars fans everywhere. When I later branched off on my own, I produced official tie-in magazines for fan-fueled properties including: BladeRunner, The Goonies, Gremlins, Back to the Future, among others, and created the official E.T. The Extra-Terrestrial Fan Club for Amblin Productions and Universal Studios.
When the Garbage Pail Kids blindsided the world in 1985, it didn't take long for me to get hooked on everything GPK. In 1987, I acquired the publishing rights for an official "one-shot" magazine, based on the ill-fated Garbage Pail Kids movie. The film tanked at the box office yet has become a cult favorite to some many years later. While not particularly fond of the movie, it did not undermine my fascination with this quirky and outrageous property. Nor did it discourage the legions of fans who just couldn't get enough of GPK.
In 1988 I joined Topps as the company's Director of New Product Development. I got to 'play' in the firm's non-sport 'sandbox' and spent much time immersed in things like Wacky Packages, Mars Attacks, along with many outside licenses and other company creations, most notably Garbage Pail Kids. My obsession with this irreverent-yet-adorable, controversial-yet-hilarious brand was in full blossom. While I was technically in charge of the GPK trading card program, the bulk of the credit goes to the artists – both back in those halcyon days and to the current times – whose incredible artwork and boundless creativity hit a nerve that continues to reverberate throughout the fan community.
In more recent times I have functioned in the role of chief architect of the GPK licensed merchandise business. It's been a blast working with like-minded partners from all areas of commerce as they've passionately translated GPK into a wide variety of innovative consumer goods. This diverse range ofofficial products span: Monopoly board games, 8-bit video games, middle-school books by R.L. Stine, comics written by Adam F. Goldberg, a stunning 78-card Tarot Deck and the upcoming, first-ever GPK Pop-Up book, plus a myriad of amazing toys and lots of other cool stuff.
My 33+ year love affair with GPK is about to come to its professional end as July 31 will be my last day at Topps/Fanatics. The company has assembled a competent team to carry the torch and I look forward to seeing GPK persevere, prosper and continue to charm and infatuate the "little kid" inside us all.
As for me, while GPK will always hold a special place in my heart, it's time to move on and explore other opportunities. Thanks to every one of you for being a part of my GPK adventure and for allowing me to play some part in your GPK experience. In my book, it's always been — and always will be –about fans first!
– Ira Friedman, July 2023
P.S. And may the Farts be with you, always! J