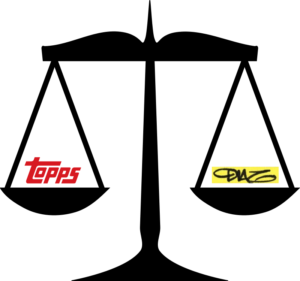 Back in Oct. 2017 Topps filed a lawsuit against former Garbage Pail Kids artist Luis Diaz alleging that Diaz infringed on Topps' trademarks and trade dress with his Garbage Parody Kids and Gavage Parody Kids cards. A few months later Diaz countersued Topps alleging that Topps used rejected concepts submitted by Diaz and created cards based on those concepts without compensation. Paul Lesko, a lawyer who also covers card hobby related lawsuits for Cardboard Connection, had a great overview of the lawsuit back in 2018.
Yesterday, as first twitted out by Cardboard Connection, Topps announced in a press release that it has settled the lawsuit with Diaz. The release reads:
NEW YORK, May 23, 2019 – The Topps Company, Inc. is pleased to announce that it recently resolved the lawsuit it brought against Luis Diaz regarding Mr. Diaz's promotion and sale of GARBAGE PARODY KIDS and GAVAGE PARODY KIDS trading cards, which Topps claimed infringed its intellectual property. Diaz will no longer be creating GARBAGE PARODY KIDS and GAVAGE PARODY KIDS cards. All claims in the lawsuit have been dismissed, and the parties have entered into a confidential settlement agreement that contains terms and protections to ensure against infringement of Topps' intellectual property.
GPKNews reached out to Diaz for comment. Diaz confirmed that the lawsuit has been settled, but was unable to comment further due to the confidentiality agreement.
GPKNews spoke with Paul Lesko and asked his opinion on the case based on the information filed by the parties with the court. Lesko said, "The case would turn more on who developed the specific artwork first. Whether any of the art is substantially similar would be a jury call, so it all focuses on who created each specific art/card first. From the allegations, I thought both sides could win some claims against each other. So I would consider it to be a wash."
What the future holds for Diaz and other artists that create GPK themed art appears murky. Should the case had gone to trial many questions around Topps trademarks would have been answered. According to the release Diaz won't be creating his parody card lines any longer. As to what this settlement means to others Lesko said, "As it's confidential we can't determine who won/lost if anyone did. From the press release, I'd have to say it looks like the settlement was more in Topps' favor simply because it appears Diaz is not making Gavage cards any more. If that's the case, and taking into account the press release, I'd have to say this suit and resolution is likely a deterrent to others."
If you don't already, be sure to follow Paul Lesko on Twitter for all his hobby related lawsuit thoughts.