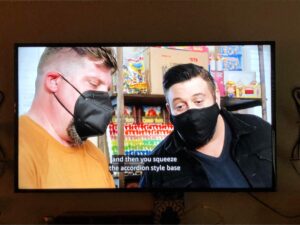 If you collect Garbage Pail Kids you probably are a child of the 1980's. The new History Channel show, Adam Eats the 80's, brings back all the nostalgia around food from that decade. Episode 2, Only in the 80's, features the candy collection of long time Garbage Pail Kids collector, Russell Vandiver (RusVan). The host of the show is Adam Richman, you may recognize Adam from various food channel shows such as Man vs. Food. The show features Adam traveling across the country to relive popular food items from the 80's.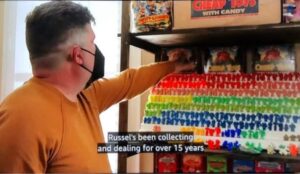 In the second episode of the show, the last two segments feature what is probably the largest vintage candy collection in the US. GPK collectors might recognize the owner of that collection, Russell Vandiver. Russell has been a long time member of the GPK collecting community. He was part of the old GPKUG forums, and continues to be an active part of various Facebook groups. Russell is also the foremost expert on GPK Cheap Toys from the 80's. The show spends a lot of time on his GPK collection both cards and Cheap Toys.
The segment with Russell was filmed in November of last year. Producers decided to film only part of the collection! Filming was done on the living room displays, while other parts of his collection reside in the loft and spare bedroom of his house. GPKNews asked Russell how the spot on the show came about, "I had a buyer in my GARBAGE ARCHIVE store for several years that turned out to be a producer, who was pitching a new show about food from the 80's.  History took it, and then they contacted Topps and asked Topps if they could film on their location. Topps said they have almost nothing of their old candy lines and then signed a rights document over to me, so that I could represent Topps for this program. This then lead to an interview, which lead to me sending pics and them forming a script.  During this process I had to fight to get some of the attention at least off candy and get GPK, and mainly Cheap Toys mentioned.  Unfortunately, in post-production Topps changed their mind and said they did not want to be mentioned in the show, which meant almost 95% of my lines were cut because all day I talked about Topps!  Also if you notice, they cropped out most of the Topps logos in the images, but they did miss a few."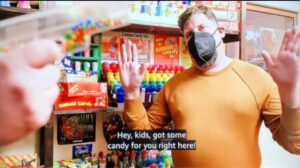 While the filming took a long 13 hours, Russell had a great time with Adam and the producers, "Incredible, the energy coming off this guy was nothing I've ever experienced.  I realized why he hosts a bunch of different shows, Adam is amazing!" The edpsode first aired on The History Channel on Feb. 27, 2022, and is now available to watch online through your local cable company or Amazon Prime Video.