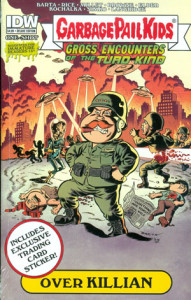 With the release of IDW's 4th one shot Garbage Pail Kids comic comes the continued practice of including a special promo card in the Deluxe Version of the comic. As with every release so far we now have some confirmation that different color border parallels exists in the comics.
Thanks to Kevin Johnson over at Gotham City Comics we got our first look at the cards. In a small sample size Kevin opened 6 of the Deluxe versions of the comic. He pulled 3 white borders, and 3 yellow borders. Given the small sample size its not possible to determine the rarity of the different versions.
There is a huge change to the yellow border version of the card. In the previous two comic releases the yellow border card was numbered on the back /100. This time around the card is not numbered. Does this mean there are more than 100 yellows? Or is the card limited but just not numbered? Once more people start busting open the comics it should become clear how rare yellow is this time around.
Another change is to the cards backs. This time the 30th anniversary card set is being advertised. However, the card no longer contains a card number like previous releases. See below for pictures of the card front and back curtiosy of Kevin Johnson. As more versions of the card and info about rarity comes about this article will be updated.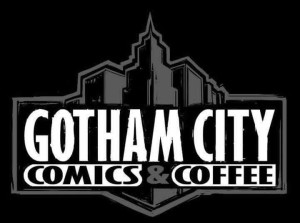 Update 6/24/15 @ 12:25 PM
As with previous releases the Black Border promo card has surfaced on eBay. So far there is white, black, and yellow borders available. White continues to look like the most common as many are posted to eBay and on Facebook.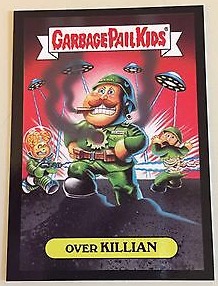 Update 6/30/15 @ 10:45
GPK collector DJ Spencer did the seemly impossible and pulled the Red Border version of Over Killian this evening. Just like the yellow borders the card is not numbered on the back. It is believed there are 10 copies of the red border. It does exist!