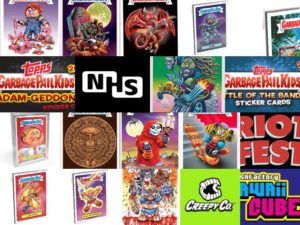 2017 was a year filled with Garbage Pail Kids from start to finish. Once again Topps released two retail sets. Online sets however, saw a wave of change mid way though the year. While the award show and holiday sets continued, the daily political cards were gone by summer. 2017 saw an increase in the use of the GPK license from Topps for many different types of merchandise. Topps also saw final card artists leave GPK, while also adding to the ranks. The number of sketch card artists saw a massive increase as each set was released. 2017 also saw the passing of former Topps artists Jay Lynch and Pat Glover. Looking back at 2017, collectors saw a very busy year. Collectors had a lot to choose from on cards and merchandise to spend their hobby budgets on this year. But what stood out as the best in Garbage Pail Kids for 2017?
Welcome to the first annual 2017 GPKNews.com Best of GPK awards! Winners have been selected by the editor of GPKNews.com in seven categories. Additionally, a Reader's Choice winner was also named in each category. Readers of GPKNews were able to vote in a poll on GPKNews' Facebook page in mid-December. On some awards there is agreement, while others vary in opinion. Let the debate begin! Its time to celebrate the best in GPKs for 2017!
And the winners are…
2017 Retail GPK Set of the Year
Winner: 2017 Series 1 Adam-Geddon
Reader's Choice: 2017 Series 2 Battle of the Bands
2017 saw the release of two retail sets. Adam-Geddon was released in January, while Battle of the Bands came out in October. Both sets saw similar levels of popularity with collectors. Each set had a handful of popular cards with collectors who chased rainbows. Both sets were configured similarly by Topps. Production was almost the same for both sets, with Battle of the Bands seeing a slight decrease in production. While the number of sketch card artists increased in Battle of the Bands, odds of pulling the "hits" from boxes remained consistent. So how do you pick a winner here? The themes for both sets couldn't have been more different. Adam-Geddon featured GPKs in various end of life scenarios. Battle of the Bands were parodies of popular music artists in different genres. Adam-Geddon got the nod here because in the end, GPKs are "kids". What do collectors like better than seeing than their GPKs mutilated every which way possible?!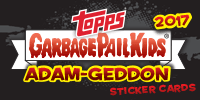 2017 Online GPK Set of the Year
Winner: GPK Classic
Reader's Choice: 2017 Halloween
Unlike the retail category, there is a lot to choose from for online GPK set of the year. Hands down, online sets bring the most controversy in the GPK community. There were 20 total online sets released by Topps in 2017. Among those were 16 small sets, 3 daily release sets, and 1 On Demand set. This category came down to two standouts. Released in Sept., GPK Classic was the first GPK set to be featured in Topps "On Demand" category. The largest of the small online sets featured 40 cards, (20 with a/b versions), with all artwork completed by Brent Engstrom and Joe Simko. This year's Halloween set, released in Oct., featured 20 cards (10 with a/b versions), with all artwork completed by David Gross and Brent Engstrom. Why did these sets stand out? The artwork and gags top to bottom are very good. This is some of Engstrom, Gross, and Simko's best work of the year. You can tell there was a focus on both of these sets to appeal to the established GPK collector. These were also two of the few sets that didn't include Wacky Packages! Collectors received only GPK love here. The Halloween set saw the highest online sales of any set this year. GPK Classic on the other hand could be a breakthrough product, that in the end might mean more to the future of GPK. Artwork done for collectors, random old school themes, the inclusion of sketch cards, are all reasons why GPK Classic wins this year's online set of the year. When you have artists that are dedicated to the brand and are willing to push through the corporate red tape to get sets like these released, you have a winner!
Honorable mention: 2017 Halloween, 2017 Best of the Fest, 2017 Summer Comic Convention, 2017 Fall Comic Convention.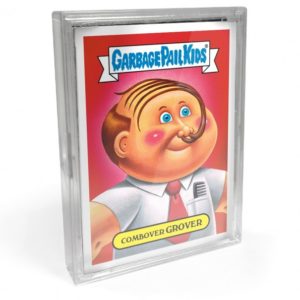 2017 Topps Licensee of the Year
Winner: Creepy Co.
Reader's Choice: Creepy Co.
2017 saw a large increase in the use of the GPK license. It was great to see Topps' willingness to license out the brand for both classic merchandise and outside the box ideas. While Funko did not release any GPK product in 2017, other companies stepped up. Collectors saw everything from cards, posters, t-shits, jackets, socks, pins, buttons, stickers, figures, stuffed toys, and even skateboards! Once again the choice here came down to two companies. NHS Inc., the owners of Santa Cruz Skateboards, took the license and created a hugely successful skateboard line. Offered in blind bag format, the boards sold out in a matter of days, and saw huge secondary market prices for some versions. Sales of the boards appealed not only to GPK collectors, but skateboard collectors as well. So why didn't NHS win? Creepy Co. has come out guns blazing this year, excelling with large variety of authentic replicas and new merchandise. Creepy Co. has something that should interest any GPK collector. The artwork on the pins is spot on, with attention to detail standing out on everything right down to the packaging. Replicas on puffy stickers and zipper pulls from the 80's bring collectors back to the time of buying Imperial GPK merchandise on Toys R Us shelves. Creepy Co. also has collectors covered, literally, from shirts, to jackets, to socks.  Its going to be tough for 2018 to be as good for GPK merchandise as 2017 was.
Honorable mention: NHS Inc., Wish Factory, Riot Fest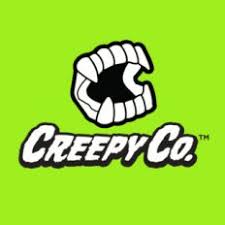 2017 Rookie Sketch Artist of the Year
Winner: Matthew White
Reader's Choice: Joe Grotesque
2017 might go down as the year of the rookie sketch artist. After keeping the GPK sketch lineup small for a few years, Topps has been slowly increasing the number of artists that work on a set. 2017 saw an explosion of new artists added into the mix. New artists made their debuts throughout the year, as there were three opportunities for GPK sketch cards this year. Believe it or not, a staggering 35 sketch artists made their debuts in 2017. Topps chose a mixture of longtime Topps' sketch artists as well as brand new artists, most of them GPK collectors themselves. The results have been amazing. Overall the artists are fitting right in, and in some cases have already risen to the top of most frequently requested commission lists. There is no wrong answer in this category. Many of the artists could have come out on top here, and readers showed by their voting that they had their favorites. For 2017 we are giving the Rookie Sketch Artist of the Year to Matthew White. He made his debut in 2017S2 Battle of the Bands. However, Matthew has been a longtime collector, doing private commissions for quite a while. After finally being picked up by Topps, he has made his mark and has become one of the top requested artists. His sketches are constantly stunning, truly pieces of art.
Honorable mention: Joe Grotesque, Rory McQueen, Mike McHugh, Smokin' Joe McWilliams, Pat Chaimuang, Darrin Pepe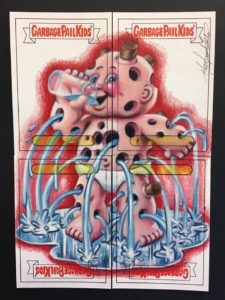 2017 Sketch Artist of the Year
Winner: Dan Burn Webster
Reader's Choice: Mike McHugh
Its almost impossible to pick a winner in this category. What makes a great sketch artist? Consistent, beautiful work done throughout the year, going above and beyond for collectors on sketches, and timely and professional communication with collectors are just a few of the things to consider in this category. Artists had three opportunities this year to complete sketch cards, Adam-Geddon, GPK Classic, and Battle of the Bands. When adding rookies into the mix, there were 65 artists that worked on sketches for at least one set in 2017. It isn't easy to narrow down that list to pick a winner. This one was tough, there was so much to consider. Multiple rookies rose to the occasion to be in this discussion, in addition to a number of longtime professional artists. Great Britain has a strong GPK collector base. When it comes to sketch cards the artists there certainly hold their own. This year's Sketch Artist of the Year is Britain's own Dan Burn Webster. After making his debut with the 30th anniversary set, DBW has been a favorite among collectors. DBW completed sketches for both retail sets this year. No matter the medium he uses, his pack inserted sketches are always a hot item with collectors. Its a labor of love for DBW as he spends time making sure each sketch is top notch. His artist returns always sell out quickly for top dollar to sketch collectors.   2018 is shaping up to be another banner year GPK collectors who enjoy their sketch cards!
Honorable mention: Lowell Isaac, Michael Barnard, Matthew White, Rory McQueen, Chenduz, JM Monserrat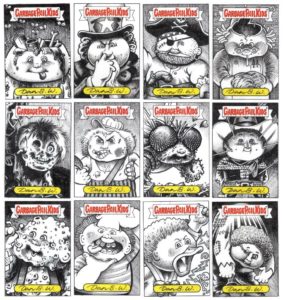 2017 GPK Artist of the Year
Winner: Brent Engstrom
Reader's Choice: David Gross
There were 17 artists who painted final front card art for GPK sets this year. With the large number of online sets, especially early in the year Topps debuted a number of new artists. However, the longtime artists continued to paint the bulk of the cards. Take a look at the top five artists by number of cards painted:
Engstrom – 145
Simko – 125
Im – 81
Gross – 54
Camera – 26
(Note: Numbers above might be slightly off as a handful of cards are unknown.) The numbers don't include Wacky Packages or other brands. These artists had a very busy 2017. Not only do many of these artists paint the cards, but some of them also are an internal part of coming up with concepts. You can tell those artists who are committed to the brand. They constantly come up with concepts, and try to understand what collectors's enjoy, while at the same time maneuvering the corporate atmosphere at Topps. This year Brent Engstrom is the artist of the year. Brent had numerous cards that stood out in both retail and online sets. Half of the cards nominated for card of the year were done by Engstrom. His work specifically on the online GPK Classic set put him over the top for this year. From top to bottom the concepts and art are an homage sets of yesteryear. If you follow Brent on Facebook, you'll often notice him painting late into the night with a new horror flick playing in the background. Here's to many more late nights in 2018!
Honorable mention: David Gross, Joe Simko, Neil Camera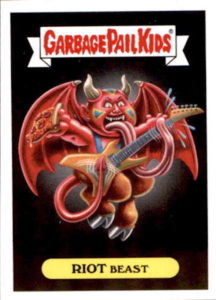 2017 GPK Card of the Year
Winner: May N. Calendar (Adam-Geddon Apocalypse #1a Artist/Concept: David Gross)
Reader's Choice: Misfit Manny (Battle of the Bands Punk #9a Artist/Concept: Joe Simko)
There were just over 500 different Garbage Pail kids released this year! From retail sets, to daily online sets, to special smaller online sets there were endless choices for card of the year. In general collectors tend to gravitate towards gore, monsters, and bones. Many of the most sought after and collected cards featured one or more of those traits. Some collectors go for a parody of a real life person, while others like the random kids. This is another category where there is no wrong answer, any number of cards could have won. This year's card of the year is May N. Calendar from the Adam-Geddon set. The gag is straight forward, its a parody of the Mayan Calendar. However, David Gross added in Adam Bomb right in the middle with a couple of other GPK inspired heads at the bottom. The artwork on the card is very intricate. Many small repetitive details had to be painted to get the card right. Simple gag, coupled with intricate artwork, and even an appearence by GPK icon Adam Bomb, makes May N. Calendar the GPK Card of the Year.
Honorable Mention: Misfit Manny, Giles Play, Zombie Robbie, Wipe Out Wally, Riot Beast